This is my "life stack" – the tools, apps, and services that I use to manage my work and life. This was most recently updated in December 2018.
This post may contain referral links, however, everything listed I use & love myself.

Quantified Self
The most common thing I get asked is "What apps do you use to collect all the data for your reports?" I spend about ~3 minutes a day interacting with my data collection despite the long list of apps below, so it's not an agonizing amount of time spent. Most of these apps run in the background with little effort from me.
I do want to emphasize that the creation of my annual reports takes between 25-45 hours of graphic design & data manipulation, so using these apps won't automagically create a report for you that looks like mine. I have academic training in statistics & data and ~15 years of graphic design experience – that doesn't mean you can't make a report like mine (or better!), but don't underestimate the work that goes into making a pretty report. A bit more information about my reports is in my Show & Tell Talk at Quantified Self Amsterdam in June 2017.
---
Mini App Reviews for Data Tracking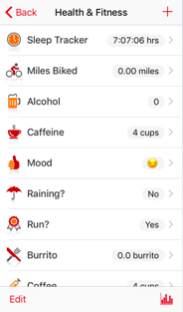 Lumen Trails Daily Tracker: My main tracking is "manual" data entry using the Lumen Trail's daily tracker app. It's gone through many iteration and pricing schemes, but I've been using it since 2012. It is essentially a glorified spreadsheet where I record my sleep, caffeine, mood, miles biked, burritos, coffee, alcohol, and pages read (plus a book diary). The sleep is a timer I turn on when I go to bed and off when I wake up, and it keeps running even when my phone is off (excellent for camping/air travel).
I can adapt those categories at any time.  Lumen Trails let you set up almost any type of data entry – yes/no questions, expenses, diary entries, numerical.
It's simple, clean, and exports to a google sheet so that I can work with the data to create my reports in R, Stata, or Excel. It does provide small graphs & averages and totals over time as well. I use it because it takes me about ~1 minute to enter before bed, but doesn't require an internet connection.
Random Pings: I get randomly pinged using Reporter App throughout the day. Reporter App is 100% flexible (and beautiful, designed by Nicholas Feltron) to whatever kinds of things you'd like to collect at random intervals (to be more scientific, or because complete data sets are impossible to do.)
Food: I track my food with MyFitnessPal, which is better than most everything out there because of the large crowd-sourced food library, but still annoys me because it is so weight-loss focused (it tells me "how much I would weigh in X weeks" when I complete a diary entry.) I wish I could turn off the weight loss focus.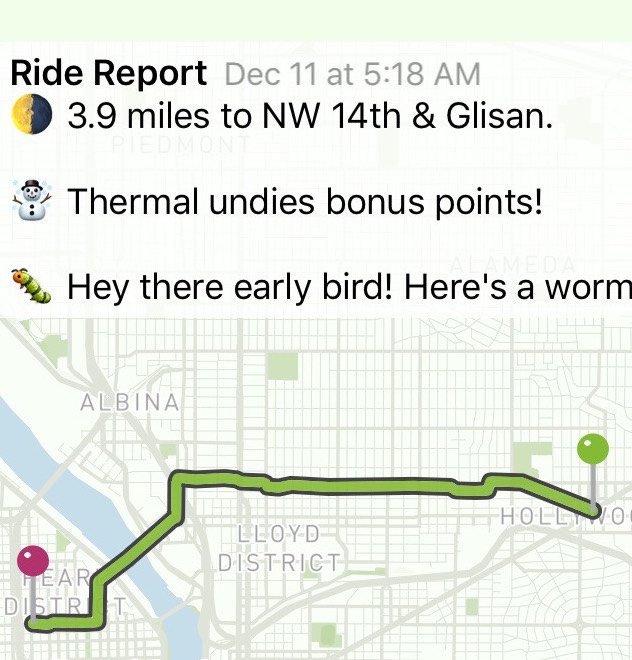 Biking: I track my rides and other transit using the delightful (and local to Portland!) Ride Report app, which I enjoy because it automatically detects my rides and gives me little bonus goodies when rides are cold, hot, early, or otherwise notable. Also, their whole business model is based on getting governments to use commuter cycling data to improve bicycling infrastructure, which is awesome. I do wish it had better summary data & the option to easily look at a heat map of your rides for the year, month, at night, etc.
I previously used Moves app to generally track my movements via bike, walking, and transit – I loved Moves since 2013 – until it started having crashing issues every time I changed time zones (problematic with my lifestyle) in June 2017 on my iPhone. They discontinued the app in mid-2018, to the surprise of no one.
I also like that it connects to MyFitnessPal via Apple Health  – I use the GPX exports to to create visualizations of my travels now that Moves-o-scope is discontinued.

Weight Lifting: I use the very simple StrengthLevel.com as my training log for weight lifting – I love that it has a HUGE crowd-sourced library of strength standards based on sex, weight, height, and training level.
Sleep: I track my sleep using Sleep Cycle's iPhone App, and my Fitbit Flex 2. My biggest complaint with both Fitbit and Sleep Cycle is they are terrible for tracking sleep on airplanes, buses, or trains (even when you have a full bed).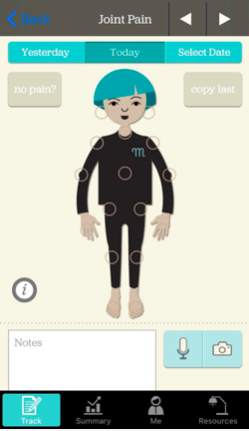 Rheumatoid Arthritis:  I track my rheumatoid arthritis symptoms (pain in my joints & fatigue and dosages) using the MyRA app, but I am inconsistent at data entry mostly because I am 97% symptom-free since starting Enbrel 3.5 years ago. It is the only app, however, that I have found, that does an excellent job at tracking individual joint & also providing a summary report to give to my Rheumatologist.

Finances
Software
YNAB – A personal & small business budgeting app.
I can't recommend YNAB highly enough. It changed my life. My biggest regret was that I didn't use it earlier, because the name YNAB (You Need A Budget) rubbed me the wrong way – I was already pretty good at money, I didn't need a budgeting app. But even for the fiscally inclined (or not!), I think YNAB is an excellent tool.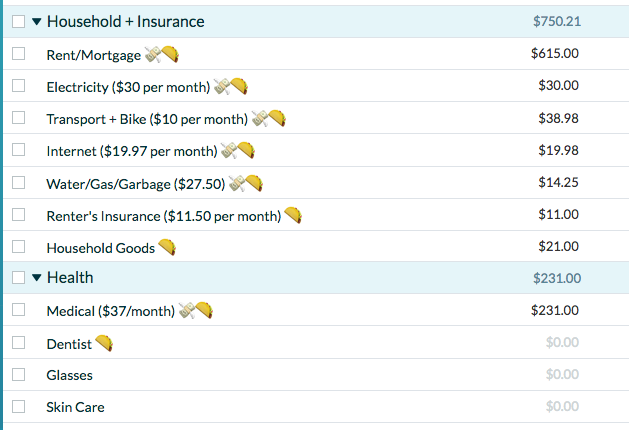 The YNAB method and app were instrumental in my ability to save 50% of my income and create enough of a nest egg to quit my job to start a business without going into debt.  I use it for tracking my personal expenses, producing my monthly expense reports, and planning ahead for future expenses. It can be used offline, it takes seconds to enter a  transaction at the time of purchase, and is nimble at letting me "roll with the punches" (adjusting my spending when life doesn't go as planned).
The big downside of YNAB for me is that it isn't great at supporting multiple currencies in one budget – I end up creating separate budgets for trips to foreign countries, which was rather annoying on my Trans-Mongolian trip where I switched currencies every few days (7 total currencies).
I also use it in my small business for planning ahead in combination with Profit First's methodology. However, it doesn't support small business accounting concepts like receivables, depreciation & inventory. It's a great planning tool for small business used in conjunction with another accounting software, but if you're tracking inventory or doing accrual method accounting, it can't be your only tool for your small business. For a business like freelance graphic design, however, it might very well be enough.
H&R Block Tax Prep – tax prep for 1099 income
I have used many types of tax prep software and was a tax preparer – and I think H&R Block is the best for self-employed folks doing their own taxes. If your adjusted gross income is below $64,000, you will get free e-file (including state taxes) if you follow the links from the IRS's webpage (but not if you go to H&R Block directly, you must follow that IRS link.)
If you don't want to file yourself and your income is below ~$60,000 or you are retired, find a free AARP Tax Prep site near you and get certified tax preparers to do your taxes totally for free.

Travel Hacking Cards
The second most common thing I get asked is "What credit card should I get to get airline points?" I answered this in this podcast episode.
It depends on what kind of reward you'd like and how you spend money. I recommend the website Frugal Travel Guy, Reddit's Churning Community and for the advanced, FlyerTalk.
You should not do travel hacking if you don't like spreadsheets & deadlines, if you are trying to finance a car or house in the next ~6 months to a year, if you have impulse control issues with spending, or if you have any credit card debt.
My current stack:
Banks
USAA – my checking accounts & renter's insurances. USAA has had the best mobile & online apps available since the 1990's, but are only available to military & their immediate families.
Rivermark Credit Union – monthly fee-free business checking. Their website kinda sucks but I just deal with it.
Vanguard – home of my investment accounts, including my Traditional IRA & Roth IRA. Investor-owned firm (no shareholder's pockets to line) with low-expense ratio index funds.
Productivity & Work
Devices 
MacBook Pro 13″ (2016, 2.4GhZ, 16GB RAM, 512GB) –   I replaced my mid-2012 Macbook Air with this in December 2018. It's pretty light (3lbs) with a small form factor, but is powerful enough to run the full Adobe Suite, and the battery life is amazing.
iPhone SE Rose Gold 64GB – pretty & functional
OtterBox iPhone Commuter Series Case – because I destroy everything I touch; keeps my phone safe
Pebble Watch – I will cry actual tears when this dies (company shut down but the watch still lives for now.)
Nikon D5600  – light DSLR body with excellent processor
Shure LensHopper VP83F – On-Camera mic for video on Nikon
Brother HL-L8350CDW Color Laser Printer – fast & clear color laser printer that does double-sided & bypass printing (it's expensive); still love it.
Spot Trace GPS: tiny location tracker for when I don't have cell service (like in Siberia); runs on AA batteries
Kindle: read all the books you want, even in Siberia, without carrying all the books
ZINK photo printer: for creating small sticker pictures
Paper 
Passion Planner: portable, simple paper planner – I've tried so so many planners, but this one I received for free from work as a gift and in fact it's been working well. I also love their business ethos of Give 1, Get 1.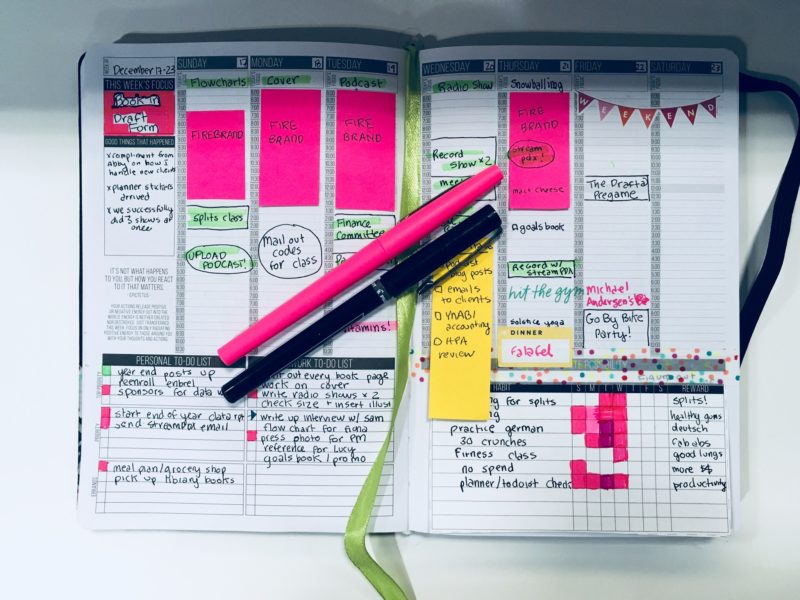 Stalogy 365days A6 Diary – A tiny & light daily journal you can start anytime. The paper doesn't bleed through even with a fountain pen but somehow it's still very light even with 368 pages.
Web Publishing
Software
Business Services
Life
Fitness

I currently work out 5-6 times a week at 24 Hour Fitness, which works fine because it is less than a 5 minute walk from my house, and has all the equipment I need. It costs me $38 per month.
I also work out on my own using the Aaptiv app, which is essentially podcasts of coaching for a bunch of workouts in your ear with curated music. I love it because I need the enthusiasm of an instructor to really push myself, but my work shifts often overlap with group fitness classes – I can do Aaptiv workouts anytime – including when traveling.  They have programs for treadmill, elliptical, stairmaster, spinning, outdoor running, strength, and yoga.
I completed the Aaptiv half-marathon training program in 2017 and 2018, and I shaved 10 minutes off my time thanks to the regimented program.
Food/Meal Planning
Breakfast tacos: fast, cheap, protein with a complex carb
The Instant Pot:
This slow cooker/pressure cooker/rice cooker is as magic as everyone says. It cooks black beans from dry to done in 40 minutes – this used to be an 8 hour process.
I am a firm believer in meal planning (check out our Oh My Dollar! episode on it). I put lunch & dinners into my paper planner + my SO inputs the weekly meal schedule into the Paprika App which will tell us what to buy. We use a shared Todoist list for grocery shopping.
Transportation
My beautiful Ahearne custom mid-tail commuter & touring cycle is my main ride.
My around-town "professional" bike bag is the Po Campo Bergen Pannier which converts to a briefcase and has NO HOOKS on it to grab my clothes & stockings (attachment is magnetic but strong). It can carry a yoga mat easily as well.
My touring panniers are my 12-year-old Arkel GT-54 Touring Panniers & my burly, amazing North St Woodward Convertible Pannier. 
My cargo bike is an xtracycle conversion.
I have Global Entry Trusted Traveler Status and it has changed my traveling life – it allows me to sail through customs & use the TSA pre-check lane.
I also receive LoungePass through my Chase card, and have found it a great benefit when traveling frequently for work to have access to lounges with good wifi and outlets – and free massage chairs, which I love (and save some money on coffee, bagels, and other airport snacks.)