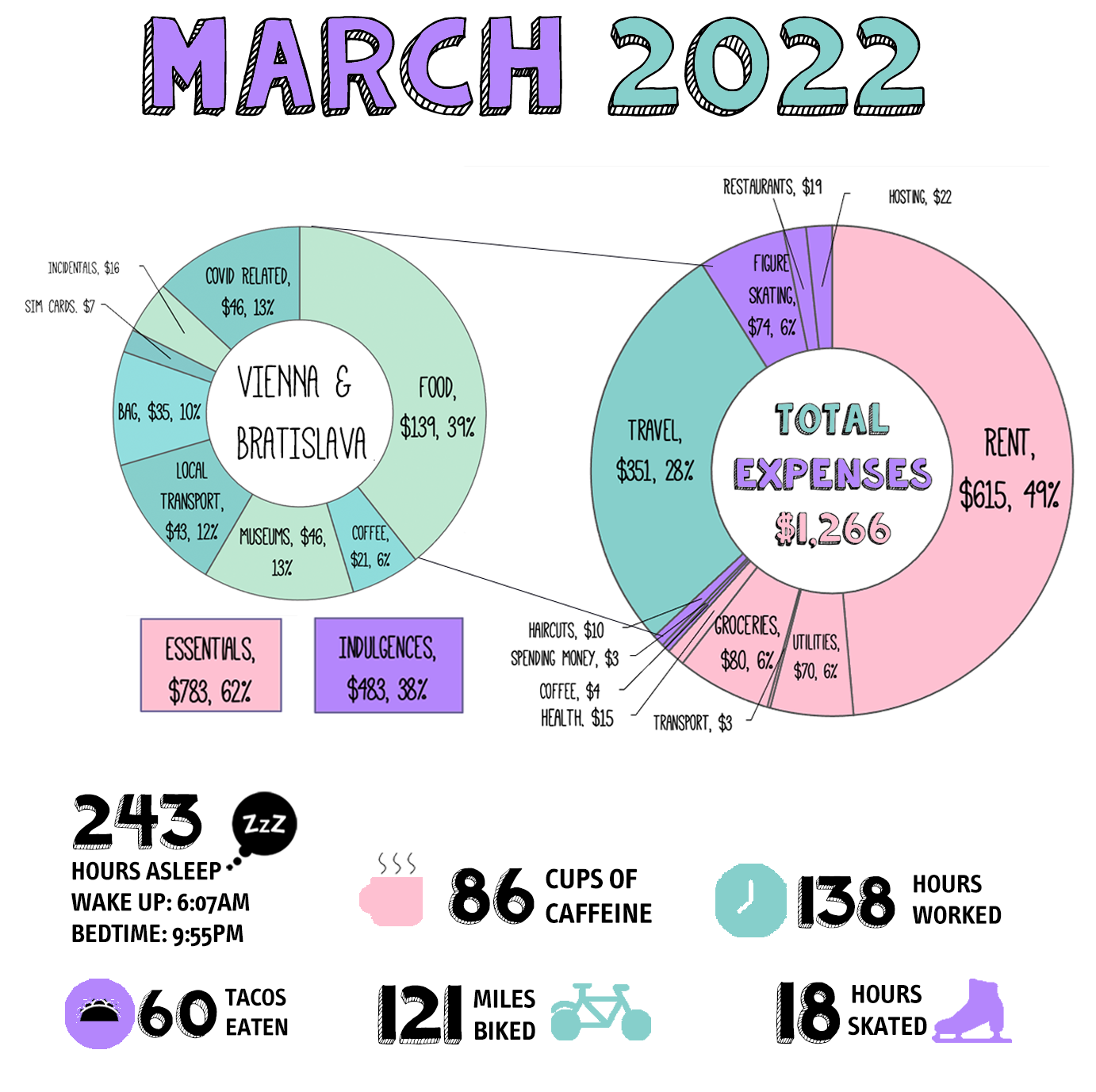 Right now I'm focused on studying for the Series 65 exam and not working full-time until I start my new job in April. I didn't pay myself out of Oh My Dollar! this month as I wait to find out what I owe in taxes.
Full March 2022 Spending Report
Total Spent: $1,266
On track! 17.58% of my total annual budget at 24.6% of the way through the year.
Household & Insurance – $697.84
Rent: $615
Water, Commons, Garbage, Sewer: $32.50
Trash: $7.50
Electricity: $34.21
Household Items (detergent, TP, toothpaste, razors, etc): $0
Internet at Home: $0 This is now paid for by SSO's employer due to being remote employee, was $20 per month.
Transport – $2.50
MAX ticket to Airport: $2.50
Basic Food – $83.90
Groceries won't stop being expensive but I was out of the country for 10 days this month so they were lower overall!
Basic Groceries: $76.62
Treats (non-essential snacks): $3.29
Coffee/Tea For Home: $3.99
Extra Food & Drink – $40.84
Restaurants: $19.00 – our friend Mitch moved away from Portland so we did a dinner with him prior to leaving!
Health/Fitness – $15.22
My health insurance premium is now covered under my SO's employer plan and comes out of their paycheck. It comes to $110 per month pre-tax, but we'll likely settle up at tax time rather than me paying my SO each month because of the complexities of our taxes and my health care costs.
Optometry: $3.22 – 

 travel contact solution

Protein Powder: $11.99
Figure Skating $74.00
Coaching: $40 Coaching! I now have an ice dancing coach.
Ice Time: $24.00 Two freestyles at the "big rink"
Skate Sharpening: $10 
Looking Good – $10
Haircut: $10.00 A haircut at the beauty school (took 2.5 hours and was really a little too short for my liking, but it was $10, so….)
Flotsam: $25.17
Spending Money: $3.33
Party Hosting: $21.84 We had a "smash our house party".


10 Days in Vienna and Bratislava – $350.90

I paid for accommodation in Bratislava using Chase points (a very cute Airbnb), and the hotel in Vienna was covered by my SO's work as it was a work trip. My flights were covered by American Airlines points (from travel hacking) and the taxes/fees were paid in January. All amounts below are converted to USD, may be inexact due to exchange rates.

Food: $138.52
Coffee: $21.16
Incidentals: $16.07
Museums: $46.04

Wien Transit Museum: $8.84
Wien Art History Museum: $20.02
Stephensdom Roof: $6.04
Bratislava Clock Museum: $3.29
Bratislava Transport Museum: $7.68

Ground Transport: $42.55

Wien CityBike: $1.11
ÖBB train from Bratislava > Vienna: $12.79
ÖBB train from Vienna > Bratislava: $17.01
Wiener Linien Transit Total ($2.67 per trip): $11.64

Bag: $34.78
SIM Cards: $7.00
Covid Related: $46.07 (heaps of FFP2/K95 masks, tests were free in Austria)
Savings: $100
I do not have an employer 401K any longer, so for now I am saving in a SEP-IRA. I am not currently prioritizing savings while I'm studying for my new job!
Retirement savings: $100
Cash savings: $0
YTD Total Savings: $500/$10,000
(3% Total of goal at 16% of the way through the year)