At the moment, Lillian is accepting speaking invitations for after June 2018. You can contact her at lillian (at) anomalily (dot) net. 
Upcoming Engagements
April 2018 – Portland Zine Symposium Monster Pageant in Portland, OR – Judge
& Life After AmeriCorps in Portland, OR – Money Management Post-AmeriCorps
& SYMRC at New Avenues for Youth in Portland, OR – Get Your Money Together Mini-Bootcamp
May 2018 – World Privacy Forum Live Podcast in Portland, OR  – cohost
May 2018 – Get Your Money Together book launch in Portland, OR
July 2018 – Podcast Movement in Philadelphia, PA – "What Bowie can teach us about podcasting"
Recent Speaking Engagements
March 2018 – School of Art Institute of Chicago in Chicago, IL – money expert at Go Fund Yourself!
March 2018 – Bond  in San Francisco, CA  – money management for makers
January 2018 – Boly:Welch  in Portland, OR  – Get Your Money Together @ Work
November 2017 – Bullish Conference in Washington, DC – "Investing Like the Badass You Are"
Boly:Welch in Portland, Oregon – Get Your Money Together @ Work
October 2017 – Camp Mustache Canada in Toronto, Ontario – "Adding Glitter to Your Financial Planning"
& Tualatin Public Library in Tualatin, Oregon – "Budgeting Like a Boss"
& Re:Conference in Salem, Oregon – "Gamification in Financial Wellness"
August 2017– LeakyCon in Dublin, Ireland – "Macroeconomics for
Muggles: Harry Potter and the Order of Keynes"
July 2017 – Higher Education Financial Wellness Summit in Minneapolis, MN – "Using Gamification to Encourage Smart Money Habits"
June 2017 – Quantified Self Conference in Amsterdam, Netherlands – "What if My Life was the Economy of a Small Country?" & Beeminder user group meetup

Indie Web Summit in Portland, Oregon – Keynote "A Brief History of my Website"
Lillian often speaks at national and international conferences and at smaller, local gatherings during her domestic travels. She's always eager to meet local bike activists, zinesters, and librarians and is willing to speak in pretty much any venue. Her size:loudness ratio means she fits even in the smallest cafe with the worst acoustics.
She'll dress up like Bowie if you ask nicely.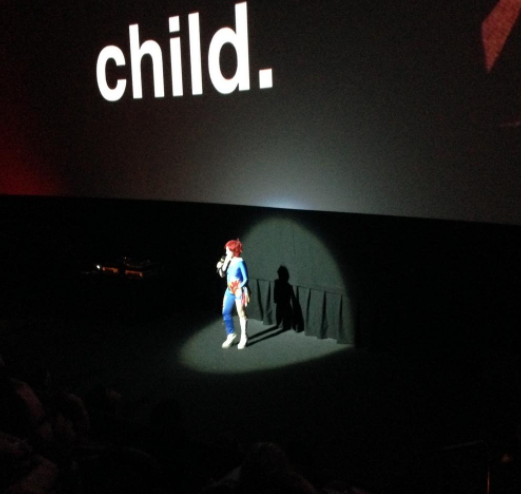 Check out some press clippings on her public speaking here, here, here, and here.
All the speakers @WomenBike have been awesome, but @anomalily is tearing it up!!! #it'sinspireo'clock #nbs14

— Tyce Herrman (@tyce56) March 3, 2014
Talk of the day. @anomalily says #bike advocates get it wrong. Forget money, weight, guilt-shaming; "put the fun before the wonk." #NBS14

— Critical Transit (@CriticalTransit) March 3, 2014
@anomalily is completely amazing live! #womenbike #NBS14 pic.twitter.com/jK1YoXP1Xz

— CommunityCyclingCtr (@CommCyclingCtr) March 3, 2014
My vote for the best speaker of the day! @anomalily #NBS14 #womenbike pic.twitter.com/2him1iMrHj

— Lawrence Simonson (@lcsimonson) March 3, 2014
A sample list of talks she's given:
What if Ziggy Stardust was a CPA?– Ignite Portland (2016, Portland, OR)
Putting the Fun Before the Wonk: Using Bike Fun to Diversify Bike Ridership – Portland State University (2016, Portland, OR)
Cultivating the All-Powerful Bicycle Lobby: Putting the Fun Before the Wonk – National Bike Summit, Women's Bicycling Forum (2014, Washington, DC)
Gamification in Libraries – iYouth Library Conference, University of Washington (2014, Seattle, Washington)
The Rent is Too Darn High! (Research talk on rental real estate & bikeability) – TEDx Reed Thesis Talks (2013, Portland, Oregon)
Encouraging Biking for All Ages through Friendly Competition, Towards Carfree Cities X (2011, Guadalajara, Mexico)
How to Grow a Portland-Style Bicycle Culturein the Midwest – Queen City Bikes (2010, Cincinnati, OH)
Bicycle Lessons from Portland, Oregon,  Ohio-Kentucky-India Regional Council of Governments (2007, Covington, KY)