Grace and hustle. Hustle and grace. I need both in my life right now.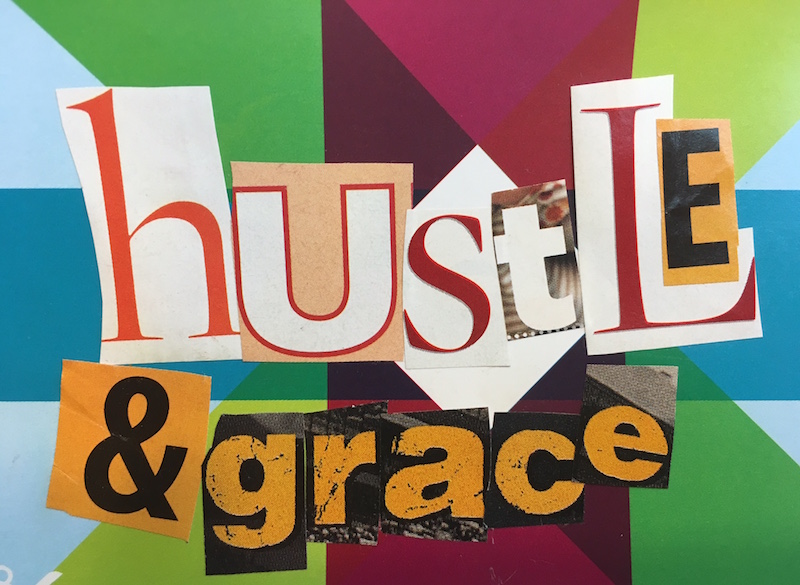 With everything that happened in my life in 2016: two career changes, a leap into entrepreneurship, and a disastrous election season, I'm surprised I managed to accomplish anything personal at all.
Despite all the uncertainty in my life, I soldiered on, and managed to knock out some pretty big personal accomplishments, including working out a minimum of 5 days/week every single day this year (that's over 15,840 minutes working out not including riding my bike- count em!), significantly reducing the amount of alcohol I consume (in a way that felt positive and not restrictive), saving 59% of my income, and beginning the Watch Me Turn 30 project, where I take & publish a creative self-portrait every day for a year leading up to my 30th birthday.
At the beginning of the new year, I usually make a formidable list of things I want to accomplish in the new year. Often, there's a keystone project like taking a picture of everything I buy (2015) or not buying any clothes for a year (2016) or writing 1000 words a day (2012). The list is always long. In fact, in 2016 it was so long I didn't even remember one of the exceptions to not buying clothing until after the new year. Turns out I didn't need to have frozen fingers for so long, gloves were allowed!
But this year I'm focusing on actions not outcomes. I'm focusing on the kind of person that I want to be, and the kind of business I want to build, and working backwards from those character traits into their daily actions.
Hardworking.
Entrepreneurship is hard. Starting a business is really, really hard. Selling yourself requires you to be the most self-confident person in the room even if you feel like a complete fraud. Being your own boss requires forcing yourself to do the unpleasant tasks, even though you totally won't get fired for marathoning Scandal in your pajamas on a Monday.
People ask me "how is business"? and I want to shout from the rooftops: 
"business is the most terrifying thing I have ever done. It is a never-ending to-do list that pales in comparison to my biggest projects I've done before because there is no due date. It is knowing that I will never be enough but that I also have to be all the things at once. It is pretending constantly until I make it."
I find saving money really easy. Really easy, because spending money makes me slightly ill. So hitting my goal of a 50% savings rate for the year was rather easy when a paycheck was coming in every two weeks. Live off one paycheck, put the other away. Easy peasy. But being an entrepreneur requires me to spend money to make money – it requires me not just to show up every day to make a paycheck, but to actually think profit margins and sales cycles and turn the work I love to do (helping people reach their money goals) into the work that pays me.
When I started contemplating what my really bigs goals are for the business (and trust me, I have some big ones), I wrote down what could get in the way. I don't have kids, my statistically significant other is not only supportive but has experience with his own startup, I have 168 hours in the week to use at my disposal, there's demonstrable market demand for what I'm doing, and I have a very comfortable monetary cushion from years of living below my means and saving. I have runway.
It turns out the biggest reason that I won't succeed at business is that I won't work hard enough. I've been a hard worker most of my life when presented with the opportunity – but I do best when there's systems set up to track my progress, there's metrics to beat and there's other people relying on me. I always show up for work early if I have a shift start time, but as soon as you give me a rope to hang myself, I start to think I'll spend the morning drinking coffee and looking at Pinterest instead.  I'm most motivated by disappointing others. I'm motivated by seeing I turned in 50% more grant applications this quarter than last quarter.
I need metrics and accountability.
This is why I can work out every single day when I'm signed up for fitness classes, but if I was dropped off in the middle of a 24 hour fitness by myself without a program to follow, I would probably do a few pushups and deadlifts and then go read a book in the hot tub. I'd feel guilty about it, but without some sort of structure or accountability I wouldn't accomplish nearly as much as I would otherwise.
I have dreams for Oh My Dollar! – I have so many dreams! But I can't get to those goals if I don't do the work. And doing the work is hard when you're the only one counting on you.
I can't guarantee that I'll meet my dreams, and I don't want my resolutions to be reliant on the whims of the economy, the president, or other people. So while I can't promise dreams, I can promise business habits that, if done, will hopefully bring success for the business. But if not, I can give myself grace.  If I do these things and I do not succeed, it will at least show that I put in the work. I did work. That I was hardworking. 
So here are the goals.
One User-Visible Improvement per day on Oh My Dollar!'s website (averaged- beeminded).
Writing 750 publishable words each day (averaged – beeminded).

Blogging weekly – either on AnomaLily.net or Oh My Dollar!

Pitching 2 guest blog posts a month.

Releasing one radio show/podcast episode a week (for 42 weeks of the year).
Email 5 prospective leads a week until I'm so booked I can't actually fulfill any more gigs (beeminded).
Send two email newsletters a month (averaged – beeminded).

So a lot of hustle, but a little bit of grace.