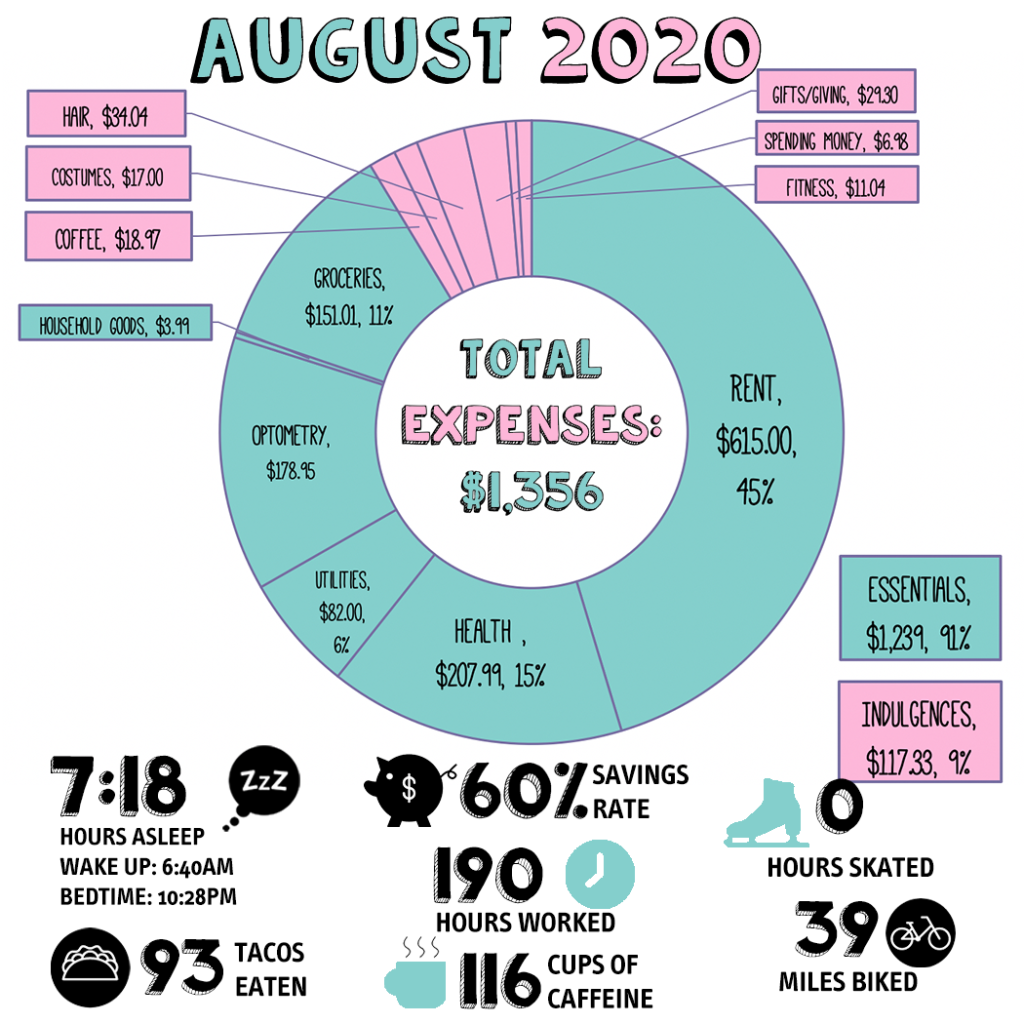 So…what happened this month? Here's a list of random things.
The world is straight up awful this year and I really don't know what to say about it. That's why this report is out so late in the month of September. I just…don't really know what was good about August?
Things continued to get very bad in the world.

The US had days with >50,000 new cases per day of Covid-19.
Police continued to brutalize protestors on the streets of my own city and dozens of others around the world when they exercised their free speech right to protest police brutality against black people. Several nights in a row law enforcement teargassed people in their own houses in residential neighborhoods just a few miles from me.
Trump said he was going to shut down Tiktok.
I worked on launching a new line of products.
Skating rinks were still shut down locally.
Got sick for 2 days, thought I had Covid-19.
I started a training plan to get back to running 10 miles, and stuck to it. I don't really like running, but it is effective and free cardio and having a workout plan is better than doing nothing.
I worked on a to-be-revealed video project with a big media organization that required a 2-day shoot.
---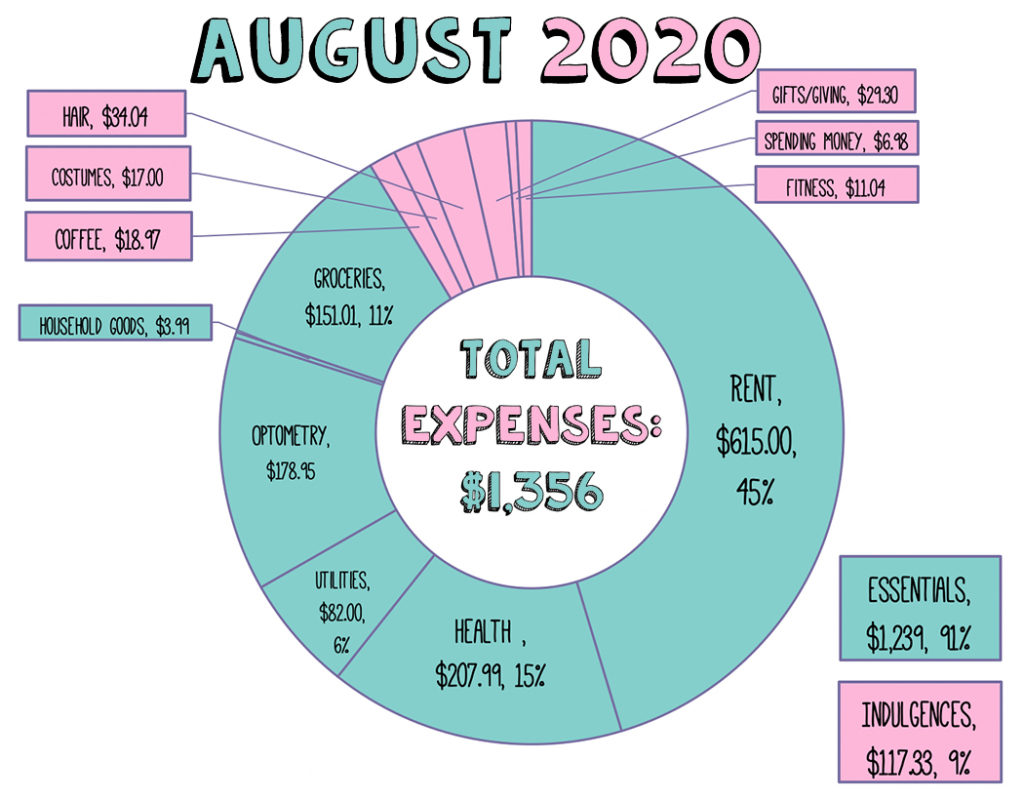 August 2020 Post-Tax Income: $3,235.18
Only 2 jobs now! 
Day Job: $2,945.00
Bank account interest: $.09
Oh My Dollar (full income/expenses report below): $290.00
Full August 2020 Spending Report
Total Spent: $1,632.73
58% of total annual budget at 66% of the way through the year.

Household & Insurance – $704.42
Rent: $615
Water, Commons, Garbage, Sewer: $32.50
Trash: $7.50
Electricity: $41.75 (high due to window AC)
Household Items (detergent, TP, toothpaste, razors, etc): $3.99
Internet at Home: $0 This is now paid for by SSO's employer due to being remote employee, was $20 per month.
Charitable – $10.00 (2%)
I am donating through OMD (below).
Organizations I am supporting: The Numberz,  XRAY.FM  and Mutual Aid for Immigrant and Refugee Students at Reynolds HS.
Basic Food – $169.18
Basic Groceries: $128.02
Treats (non-essential snacks): $22.19
Coffee/Tea For Home: $18.97
Travel – $0 (lol)
Health Insurance Premium: $204.00
Over the Counter:  $3.99
Optometry: $178.95 (1 year of contacts + eye exam)
Figure Skating $0
The rink is closed again as case numbers rise in Oregon.
Year to date, my marginal cost of skating is $10.21 per hour.
Looking Good – $34.04
Extra Food + Drink – $0
Flotsam: $54.32
Spending Money: $6.98
Gifts: $19.30
Fitness: $11.04 (resistance bands for training since weights will never exist again)
Costumes: $17.00
Savings
I am incredibly close to my goal of saving $20,000 for the year of 2020.
I do not qualify for my employer-sponsored Simple IRA until Jan 2021, so for now I am saving in a traditional IRA – particularly because I expect to have a high tax burden this year (due to my highest ever income and having to repay ).
I have also begun saving cash towards the possible goal of paying for a master's degree in cash in 2021-2022. There is nothing certain about that plan, but the worst case scenario is that I save cash and I have more cash saved and can always invest it instead if the masters doesn't happen. Not really terrible, all things considered.
Retirement savings: $400
Cash savings: $1,588.67
Savings rate
: 59.8% of Post-Tax Income
YTD Total Savings: $18,444.84/$20,000
(92% Total of goal at 66% of the way through the year)
---
My purrsonal finance society members have been keeping the business afloat for now, with book sales, speaking income, and advertising all down. But it's going okay. I've been able to donate still a chunk of change each month and keep paying operating expenses and this month I even managed to pay myself a bit.
I am looking at doing some small product launches in the fall, and that means I need to save cash to be able to buy inventory. I'm leaving a lot of money in the business right now to prep for that.
This is cash-based accounting, not accrual, so this only accounts for income received this month, not invoices billed.
Gross Receipts + Sales: $1,554.70
Amazon Book + Kindle Sales (net after fees): $8.49
Shopify/Direct to Consumer Book Sales: $153.67
Radio Ads: $12.40
Wholesale (Buyolympia): $175.70
Speaking: $500
Patreon Memberships: $704.43
Total Expenses: $1,110.74
Charity: $100.00
Equipment: $223.00 (headphones)
Operating Expenses: $450.23
Convertkit: $49
Professional Books/Resources: $73.47
Exist.io $6.00
Meals: $36.10
Mailgun: $8.15
Backblaze : $6.00
Storage: $6.97
Hosting + Servers:

 $164.40 (Linode and Dreamhost – annual renewal)

Media Subscriptions: $5
TeuxDeux: $12.99
Adobe Creative Cloud: $29.99
Cost of Goods Sold: $337.51
New Secret Product Samples: $135.43
Packaging: $37.00
Shopify Monthly Fee: $29.00
Stickers: $9.00
Shipping Supplies: $29.98
Shipping: $97.10
Net Income:
$443.96
Tax Savings: $110 (25% of net income)
Lily's Salary: $375