Good things that happened
Launched a Kickstarter for the reprint of (now titled) A Cat's Guide to Money
I launched a kickstarter for A Cat's Guide to Money, the new title for the 2nd printing of my book. It's going very well, and we've already met our initial goal but with 15 days left in the campaign, we have the potential to reach the STRETCH GOAL which includes a new budget planner. I hope it happens <3 Please consider backing the project here!
Still figure skating
Yessss…I did this. After a 15 year break, I went back to skating in April, and I kept going this month. I skated 35.4 hours this month, getting on the ice a total of 20 days this month. I still need to make room in the budget for a coach (which is $$) and need to make time for more off-ice training. (Also I post instastories almost every day with skating updates if you'd like to see them here.)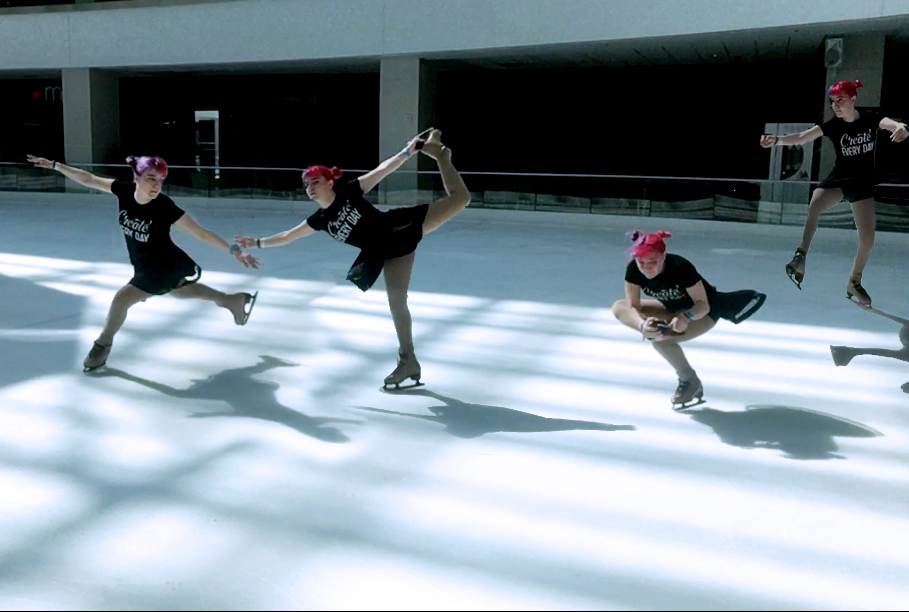 Could Use Improvement
Catch up on Video Editing Backlog
I don't even want to talk about this anymore it's so bad.
Income
$$$$$ I'm dipping into my personal reserves right now as income has been low while I work on long-term projects and the book reprint kickstarter (and wait on several delayed checks) but hope to have that resolved before July.
---

Full May 2019 Spending Report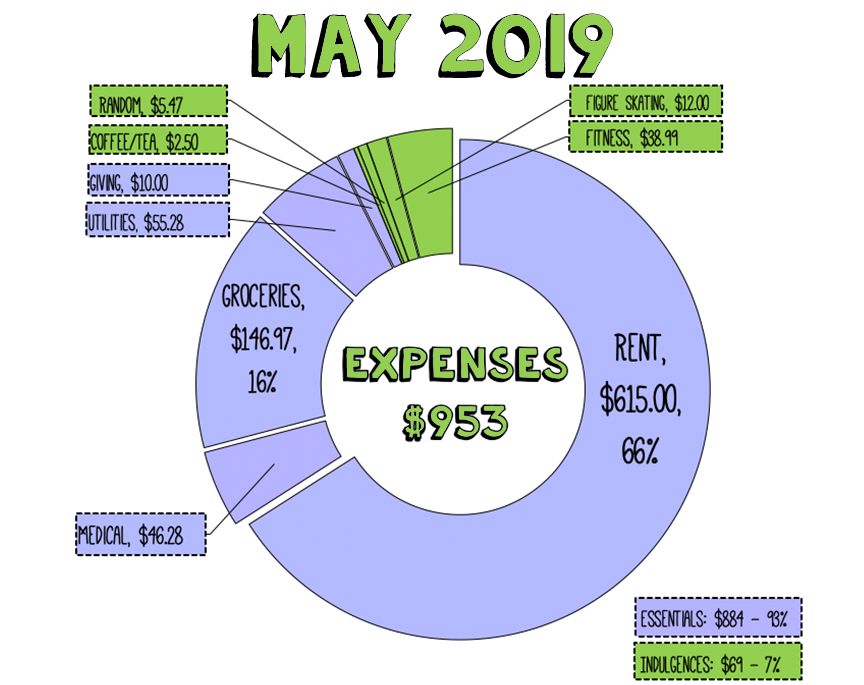 Total Spent: $952.67
Right on target – 41% of total annual budget at  41% of the way through the year.

Household & Insurance – $668.86
Rent: $615
Water, Commons, Garbage, Sewer: $27.50
Electricity: $27.78
Household Items (detergent, TP, toothpaste, razors, etc): $20.27 (new deodorant and 6-month supply of dishwasher tabs)
Internet at Home: $0 This is now paid for by SSO's employer due to being remote employee, was $20 per month.
Basic Food – $149.47
Basic Groceries: $122.81
Treats (non-essential snacks): $24.16
Coffee/Tea For Home:

$2.50
Extra Food + Drink – $0
Coffee Out: $0
Restaurants: $0
Health Insurance Premium: $29.00
Skin Care: $9.29
Contact Lens Solution: $7.99 (I have been wearing contacts nearly daily due to figure skating)
Fitness – $38.98
Giving/Gifts – $10.00
Charitable Donations: $10.00
Random – $5.47
Spending Money: $4.49
Hair Stuff: $.98
Figure Skating $12.00
Figure skating is super expensive- ice time is one of the most expensive things you can buy. Currently, I'm mostly skating on low-traffic public session at a mall instead of the advanced freestyle sessions and I don't have a coach (which I need). I pay for 7 weeks of public skate time at once and try to get my marginal cost per hour as low as possible. Year to Date, my marginal cost per hour of skating is $3.32/hour.
Ice Time:  $12 (one freestyle session; public skate paid for in April).
Sinking Funds – not yet spent
Renter's Insurance: $11.50 ($140 per year)
---
Retirement savings: $100
---
OMD Business Income + Expenses Report
I don't focus on personal income or savings any more because this year I'm focusing not on building my personal savings, but rather getting the business to a supporting-me-full-time sort of status, and I think it's important to show where I am 29 months into this business since my income might be missing from my expense reports some months since I may not take an income from the business (as was the case this month.)
This is cash-based accounting, not accrual, so this only accounts for income received this month, not invoices billed. Some of the income may be work done in previous quarters, depending on how fast people pay me.  That means that a number of the expenses incurred may be covered by reimbursements or sales received in another month.

Income & Sales:

+$735.02
Book + Kindle Sales (net after fees): $284.01
Radio Ads: $7.53
Freelancing: $75.00
Patreon Memberships: $378.46
Speaking Fees: $0
Expenses: 

-$759.18
Travel Expenses: $354.07
Facility Rent: $45.00
Shipping: $19.00
Hosting + Software: $201.11
Payroll & Contractors: $100.00
Phone: $40.00
I pay quarterly estimated taxes on my business income, so I save 30% of my net (after expenses) income in a separate account. Please note reimbursements for expenses incurred – such as travel to a gig – are not considered taxable income.
Tax Savings: $0
(30% of $735 Earned Income – $759 Expenses)