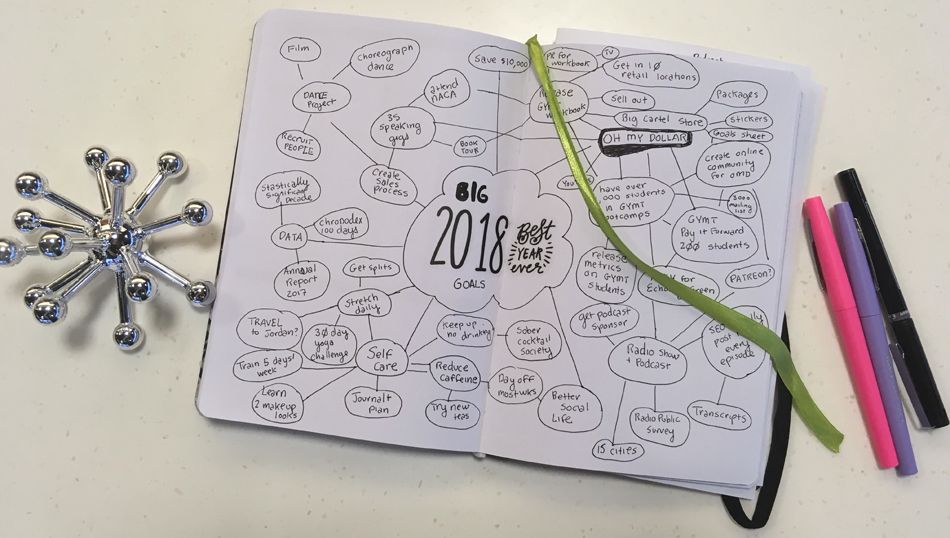 Most years, I write up my goals for the year, and then evaluate how I did at the end of the year. In 2017, I published 50 goals and evaluated how I did (I gave myself an A-). Now, 50 goals was a lot. So I kept it simpler this year, with just five goals in each area, and a list of habits I'd like to continue/cultivate.
Here are this year's goals:
Financial
Save ≥ $10,000 (more on this below)
Make money from the Oh My Dollar! podcast (sponsors or Patreon)

Reduce amount of money spent on clothing from 2017 totals

Track treats & coffee separately in grocery budget

Publish public Monthly Expense Reports
Business
Get radio syndication up to 10 cities

Release & sell out 1st Print Run of Get Your Money Together Workbook (1000 copies)

35 speaking gigs

Teach personal finance to 200 low-income folks through Pay It Fur-ward nonprofit partnerships

Launch Get Your Money Together Bootcamp local hosts program & guide
Lifestyle

Secret Dance-Related Project (to be revealed this summer)

Get my splits back (oh so close!)

Release A Statistically Significant Decade: A Data Memoir of my Twenties zine
150 hours of social (non-work) time this year (tracked on Beeminder here)

Three bike camping trips this summer

In addition to those concrete goals, I also want to cultivate and continue some habits this year. Here they are:
Weekly meal planning (cont'd)

Stretching daily (cont'd)

Daily German practice (cont'd)

Flossing daily (cont'd)

Working out 5 times per week (cont'd)

Sleeping at least 7.5 hours per night (cont'd)

Reducing caffeine consumption to less than 3 cups daily

Daily journaling
Just for the record, here are some back burner projects that may come up this year, or might not:
Jane & The Austens (Regency-Era Costumed Feminist Punk Band)

Public time tracking art project 

Creating more free purrsonal finance videos on youtube

Portraits of creatives with their budgets 

Sober Cocktail Society (bar listing & happy hours for creative non-alcoholic drink options)

"Why is US health care broken?" podcast (alternatively titled "Lily rants about health policy")

Learning conversational Russian
---
Goal #1: Saving >=$10,000
I chose this goal because it is a goal that relates to three things at once: spending less, saving more, and increasing my income. My expenses have stayed relatively low the past couple years, other than health insurance and travel, so I can't hit this goal by cutting expenses alone. I project a similar level of spending, between $18,000 – $20,000 (personal) for 2018.
The goal of saving $10,000 ($833/month), would indicate a gross income of ~$35,000 (gotta plan for taxes in there) at my current spending level. This is a stretch goal over my 2017 earning, but presumably within reach. This would put me at a 28% savings rate for the year, not nearly as good as when I had a full-time day job, but respectably comfortable. 
This goal is also kind of a test of how viable this self-employment thing is. If by the end of the year, I haven't been able to save $10,000, it might be time to start looking for a full-time job and make Oh My Dollar! a side gig only. (My market value as a full-time employee is much higher than $22,000 a year – closer to $50,000 – $65,000 depending on the work.)
One thing to note is that if my gross income goes above ~$22,000 as this goal requires, I will have to set aside up to $2,832 towards repaying my monthly health insurance subsidy at tax time. I am not counting saving for that as part of my $10K savings goal because it will be a consumer expense.
Current Monthly Take Home Earnings ($21,120)
~$400 per month from Oh My Dollar!

~$500 per month from freelancing (the goal is to 100% replace this with OMD income by June)

~$860 per month from part-time job at fitness studio
My current back-of-the-envelope income and expenses only gets me to $402 per month savings, as you can see below.
Cutting the fat from my below budget is possible, to be clear. If money is tight, I can carve out another ~$192 per month. The "easiest" thing to go is the trip to Jordan, which adds another $100 of savings per month into the budget.
The other discretionary things to cut are my gym membership, dance classes, clothing budget, restaurants.
Cutting all of that frees up $92, but then I eat 0 burritos and have many holes in my tights and don't get to go use the weight racks and hot tub at the gym, which would make me sad. I would rather earn $92 extra dollars than cut those things.
So obviously, it's going to take raising my income, through a combination of business activities, to get to that $10K savings goal.
Annual Spending Budget: $16,319 ($1,358 per month)
Household & Insurance – $8,406
$7,380 – Rent

$330 – Water, Commons, Garbage, Sewer

$336 – Electricity

$240 – Internet

$140 – Renter's Insurance

$120 – Household Items (detergent, TP, toothpaste, razors, etc)

Basic Food – $2,110
$1,860 – Groceries (including coffee/tea)

$250 – Annual farm half-share
Transport – $310
Bike Repairs & Parts – $250

Transit Trips – $60
Medical – $774
$100 – Copays before OOP Max reached in March

$444 – Health Insurance (*with subsidy based on $22K income – see note)

$230 – Dental Copays
Extra Food & Drink – $620
$360 – Restaurants & Bars

$180 – Tea/Coffee Out

$80 – Alcohol for hosting
Fun Stuff – $2,099
$564

 

– Fitness Membership

$500 – Clothing/Costumes

$250 – Dance Classes

$220 – Haircuts

$150 – Cosmetics (ugh) and Skin Care

$150 – Gifts

$120 – Entertainment (shows, movies)

$120 – "Spending Money"

 

(candy, library fines, flotsam)

$100 – My Own Birthday Treat (whatever that may be)

$45 – C02 Refills for Sparkling Water
Personal (Non-Work) Travel – $1,400
$1,200  – Trip to Jordan for Wedding (hotel/hostel, fuel surcharges, food)

$200 –  Travel Hacking CC Fees
Charitable –  $600
This is the minimum I'd like to give. I'm not happy with my 2017 giving levels. I would like this to be higher but I'm very much playing this by ear with income. Much of the charitable activities I have on the docket for 2018 are in-kind.
---
Savings Tier: $833
$375 – Cash Savings

$458 – Traditional IRA
I have chosen a traditional IRA instead of a Roth IRA because this keeps my Adjusted Gross Income lower since it is pre-tax – that means that I may not have to repay all of my healthcare subsidy even if my income goes up.
---
So, as you can see…saving $10,000 this year is a feasible but stretch goal, the perfect kind of goal!