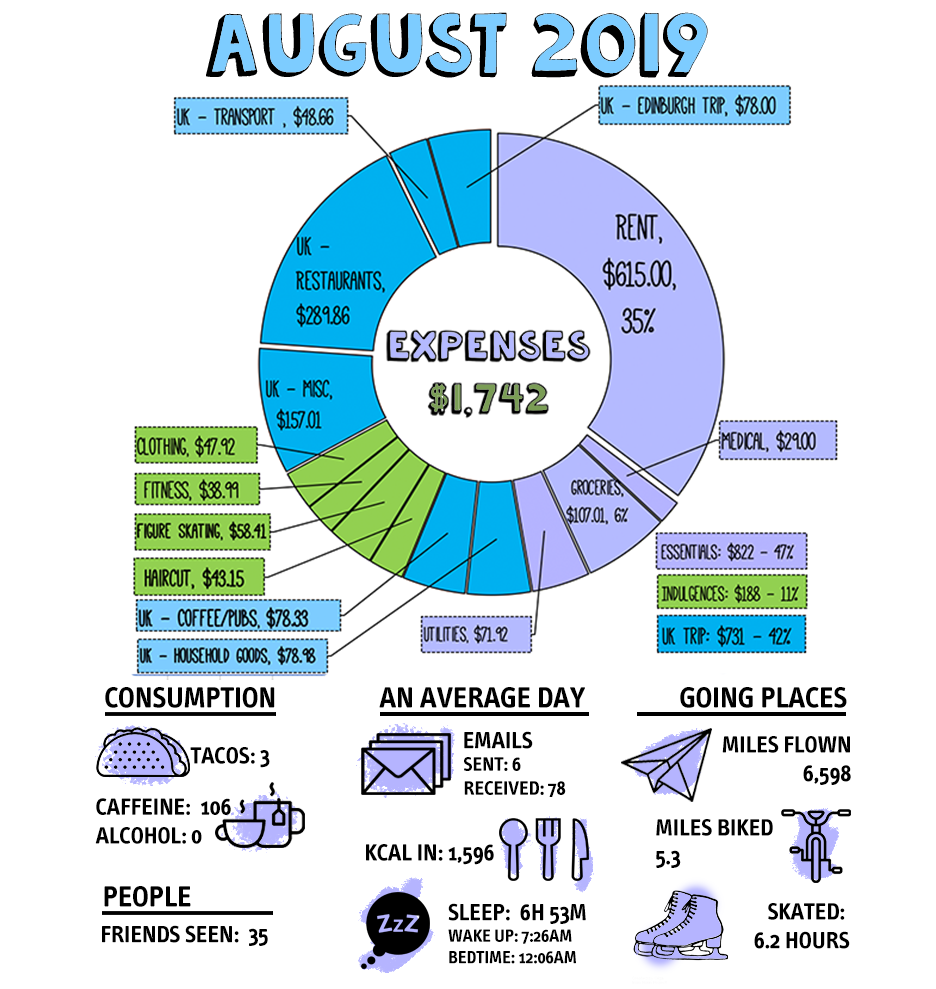 Okay, so real talk. I forgot I hadn't published this monthly report months ago. I published it on the Oh My Dollar! forums from airport wifi while on a layover on the way to Australia, and I just completely forgot to put it on my own blog when I landed (which to be fair, I also run the OMD forums, it's all the same).
I think I put a lot of pressure on this report because I spent the entire month of August living and working in London and I wanted to have a really detailed report about what doing that was like. I also filmed a TON of vlog footage in London, and didn't manage to edit and upload any of it yet. I thought for sure I would edit and upload the London Diaries vlog quickly…but I didn't. I still haven't.
But at this point, I am extremely behind on uploading my monthly reports and I'd rather get this up than get the perfect version of it up.
Disorganized bullet points of what I got up to in London:
I stayed in a cheap, grimy, and well-located flatshare sublet in the east end of London (Shadwell area). It was perfect for this month as my flat wasn't that great, so I spent more time in my swank coworking space or out and about in London, rather than hanging out in my tiny room. If I didn't have to eat my dinner out of a mug on my desk while perched on the edge of my single bed, I might've stayed in more.

This is pretty much my entire room in London.

Okay, here's the rest of my room.

I went to Summer in the City for the first time since 2012 (and met excellent people) and up to Edinburgh Fringe Festival (and stayed with an internet friend, Kaite and her wife. She was a fabulous host with great cats – and saw spectacular weird theatre with her).
I had a crap sleep schedule. The combination of the August heat with no fan, no sound insulation in my flat in a busy neighborhood, and a 8 hour time difference from Portland meant that I didn't get to bed until 1AM often, but I had to wake up at 5AM to make it to the skating rink for morning practice.
Almost every evening, I walked over Tower Bridge and London Bridge, usually at sunset, which was about a 2.5 mile loops to walk from my flat. It was spectacular to have that at my doorstep just to remind myself why London is special.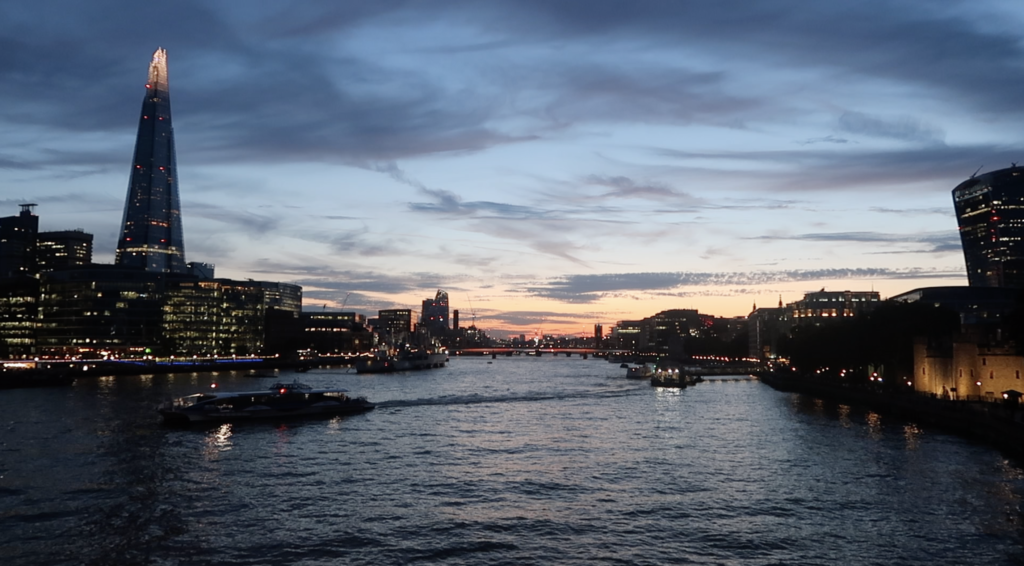 I really grew to appreciate the creature comforts I now have in my life that I have grown used to in the past few years – like an pressure cooker, ceiling fans, an airer for drying clothes, a really nice chef's knife, a very comfortable couch, more than one mug and pan. Yes, I can live without them, no problem. But I do really, really like them.
I worked on prepping to produce/star in a music video on ice, but the shoot fell through at the last minute due to location issues (harder to just move a figure skating shoot when you need ice).
I spent a lot more money on eating out that I usually would. The big issue here was that I wasn't at home much, and I didn't have a lot of cooking equipment. For example, I didn't have tupperware to store leftovers or a baking sheet to roast veg. It was hard to invest in much kitchen stuff when I was only there for a month. So I ate breakfast (crumpets with fancy vegan cheese) and dinner (usually a simple stir fry or pasta with veg, anything that could be made in one pan) at home most days, but ate takeaway for lunch nearly daily. I also splurged on a few meals to "treat myself" – like a full english breakfast vegan fry-up at least thrice. My nutrition was not the best this month. If I were to live in London longer, I would get more kitchen stuff and do more meal prep and planning.

An entirely vegan traditional fry up! So good. From a vegan cafe in Shoreditch.

I got really comfortable to my own company – while I saw people every day (unlike back home in Portland) because of my coworking space, I spent most of my free time alone. This mostly resulted in me going on a lot of walks (including to the Tate Modern), vlogging, and working a lot. I stayed at the office until 8 or 9PM regularly. I rarely saw my flatmates (one I only knew through his singing Wonderwall offkey through the wall at 2AM), so I had to work to hang out with people.
I tried to go out gay clubbing in the West End twice – once alone, and once with my friend James. It didn't work, lol. I'm too old for that shit and I don't drink. I went home and went to bed after 30 mins both times. Honestly, riding the late night bus home through London was WAY more fun to me than the flashing lights in a dark room.
I love London. I really do. It has its issues, like any city, especially with Brexit right now. But I love the pulse of the city, the art, the diversity, the tube – I even kinda like the camaraderie that comes with being crammed in someone's sweaty armpit in a 100 degree tube carriage on the central line. If the UK Home Office is reading this and wants to give me a work visa to stay in the UK longer, just let me know. I'd love it. I promise I'll buy some tupperware next time.

Just chilling on the DLR
Full August 2019 Spending Report
Total Spent: $1,742
Perfectly on target – 66.7% of total annual budget at 66.5% of the way through the year.
Portland Household & Insurance – $694.91
Rent: $615
Water, Commons: $32.50
Garbage: $7.50
Electricity: $31.92
Household Goods: $7.99
Internet at Home: $0 This is now paid for by SSO's employer due to being remote employee, was $20 per month.
UK Expenses (in GBP): 
£746.38 (approximately $935.60 USD)
Restaurants: £222.50
Groceries: £104.78
Coffee/Pubs: £64.32
Local Transport: £58.55 (I walked to work, so this was all I spent on the tube/bikeshare)
Home Goods: 

£27.07 (detergent, TP, etc)

"Settling In": £39.75 (cookware, towels, etc)
Fun Money: £101.27 (including west end tickets)
Trip to Edinburg: £65.14 (including train ticket)
Clothing: 

£39.00

Figure Skating: 

£

24.00
PDX Basic Food – $
17.22
Groceries: $17.22 (restock kitchen when I landed on August 30th)
Health Insurance Premium: $29.00
Fitness – $38.98
Looking Good – $43.15
Haircut at my friend's great queer-friendly barber, Open Barbers:  $43.15
Sinking Funds – not yet spent
Renter's Insurance: $13 ($140 per year)
---
Retirement savings: $100