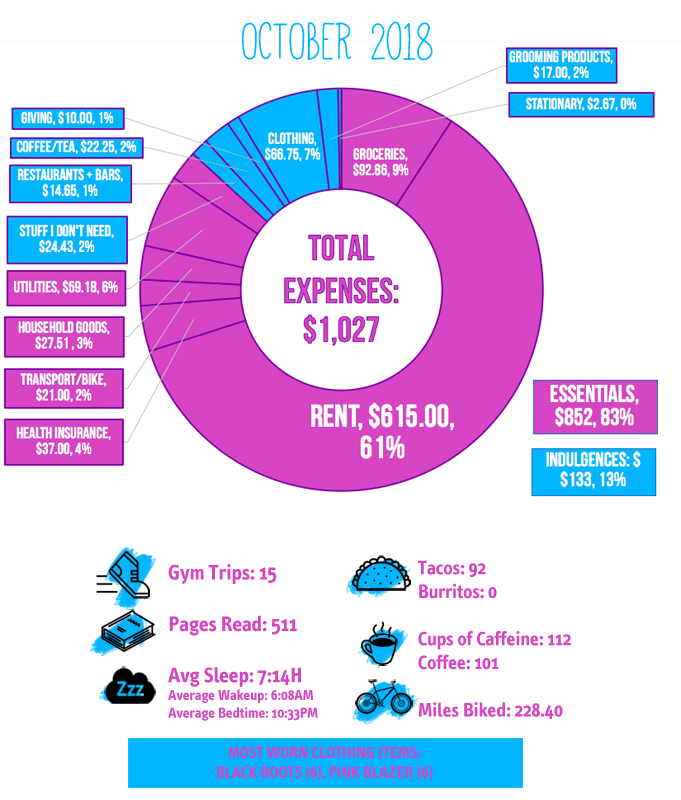 YTD Spending: $13,808/ $20,000 maximum goal
(69% of total at 83% through the year)
I am still, 100% exhausted, averaging about 63 hours of on-task work a week between the radio show, shipping books, speaking gigs, business meetings, and my full-time contracting job. Add in being sick for a week while prepping for a TEDx talk and still having a full-time job, plus trying to get back into a daily workout routine, I'm just…tired.
Despite the fact that conference season is mostly over for me, just the bare minimum of keeping the show running and books shipped and prepping for talks requires about 15 hours a week, and doing that combined with a full-time job is draining me. Especially when I was sick for a week of the month. I only averaged 63 hours of work a week this month and I took a full day off almost once a week –  down from 67 hours per week last month. But that is *still* exhausting me and I still have an out-of-control inbox.
Don't worry about food! I am actually eating a lot of food, even though the $75 on groceries doesn't seem to indicate so. The full-time contracting job that I'm working has a lot of lunch catering, office snacks, and the farm share we pay for once a year has still been kicking out a lot of veggies each week (more than we can eat, so we've been canning them!) At this point, most of my grocery expenses are nacho ingredients and stress cookies (plus some basics like tortillas, tofu and pasta) so frankly it could be a lot lower! So, yes, don't be worried I'm not eating enough! There's more than enough food at my office (is this how people with work catering and snacks live every day?)

Exciting Things that Happened
I gave a TEDx talk! It went up online a few days ago, but I haven't watched it yet.  It wasn't the talk of a lifetime for me, but I did fine. I left out a few jokes and probably talked about my shoes too much, but it worked out okay. The team at TEDxMtHood put on a really incredible even with so many great speakers and activities.
TRANSCRIPTS – thanks to my amazing Purrsonal Finance Society Members over on Patreon, we now have full, clickable transcripts for every single show. I'm so proud of this, both from a business perspective (better SEO) and an accessibility perspective.
I got a targeted promo for a free month of Classpass (use that link to get $40 off your first month – usual price $50 per month), and it's been the perfect way to ease back into finding a workout routine that I love since I have fell off the wagon since the half-marathon in September and I stopped working part-time at a gym.  I loved Classpass in 2016 when I last was trying to establish a workout routine (I wrote an in-depth review here.)
I've been doing barre3, HIIT, yoga, and Jazzercise. They're all quite fun, and I'll be keeping the $50 a month membership for at least a little while as it's a really nice way to get some variety in my routine.
I still think I may need to rejoin my mega-gym at $40 a month for my basic day-to-day default workout option, as working out in the house is not as fun. There's slightly cheaper 24-hour gyms, but this one is a 2 minute walk from my house, and has locations in other cities, which sometimes means I can use it when I travel.
New Shoes! I also went to Goodwill to replace my running shoes that I lost (frankly I probably ran a few hundred miles more than you're supposed to in those shoes, the tread was shot), and got TWO whole pairs of nice unused running shoes for $16.98 total. This the advantage of living in the same town as Nike and Adidas headquarters, Goodwill athletic shoe pickings are great (I've never bought any Nikes new, as I'm too cheap for that).

$16.98 isn't bad for two un-used pairs of brand name shoes.

New Creative Energy I started working on a project that I'd put off for a long time – making youtube videos. The first video isn't out yet, but I've been having so much fun getting back into youtube, even if editing my own face is agonizing. I like video editing, I like writing scripts, and I've been trying to make youtube video consistently since 2011…
Full expenses report – $1,027

Essential Expenses (in descending order): $776.84
Rent: $615.00
Groceries: $100.35
(Groceries – $67.97, "Treats" – $9.49, Coffee/Tea for Home – $7.49)
Electricity: $31.68
Water/Garbage: $27.50
Internet: $0 – our internet is paid for by my SSO's employer due to being a remote employee!
Transport/Bike: $21 (Bike Share + TriMet to work while sick)
Household Goods: $27.51 (restock of laundry detergent + new sheets)
Health Related Essentials (in descending order): $37.00
Health Insurance (after subsidy)*: $37.00
Discretionary Food & Drink (in descending order): $29.32
Restaurants: $14.65
Coffee/Tea Out: $14.76
Discretionary (in descending order): $113.40
Clothing: $66.75 (suit tailoring + halloween costume stuff)
Grooming: $17.00
Stuff I Don't Need: $24.43 (I was sick and bought silly home decor + costume jewlery off RomWe)
Stationary: $2.67
Fitness: $16.98 (two pairs of new running shoes from goodwill)
Charitable Giving: $10.00
Money Set Aside in Sinking Funds (Not Yet Spent): $144.32
CSA Farm Share $21.00 ($250 per year)
Haircut: $11.82
Renter's Insurance: $11.50 ($140 per year)
Fitness: $100
October Savings: $1,785 (72%)
Cash Savings: $1685.33
Traditional IRA contribution: $100
($6,868 YTD or 68% towards my goal of saving $10,000 this year)
October Total After-Tax Income:  $2,461.96
Oh My Dollar!: $38*
Poshmark: $5.05
Temp Job: $2,418.87 (I am withholding at a very high rate at this job rather than paying quarterly taxes this quarter)
*Oh My Dollar! made about $1000 this month between book sales, patreon, etc, but I haven't had any time to catch up on accounting so I haven't yet cut myself a check – plus I am waiting on some reimbursements. I'm planning to buy a laptop next month, so I likely will not cut myself a paycheck this month while that sweet consulting money is coming it.
The savings total reflected is only money set aside specifically as long-term savings/retirement investing, not for future expenses.
*Health Care Subsidy Note
My high-deductible health insurance is super-cheap at $37 a month, thanks to taking the low-income ACA health care subsidy (down from a "sticker price" of $284 per month). This subsidy is based on an adjusted gross income (AGI) of $22,000 – which I hope to exceed, if my business goes well. If I do exceed that, I will have to repay a portion of my health care subsidy, up to $2,964.
Because of receiving the health care subsidy, I've switched from putting my retirement savings in my Roth IRA to a Traditional IRA, since Traditional IRA contributions are deducted from your AGI.
This means that if my income goes up by $5,500 and I manage to put that all in my Traditional IRA, I will owe nothing back for my health care subsidy because my AGI will not change (Roth contributions are not deducted from AGI because they are post-tax).