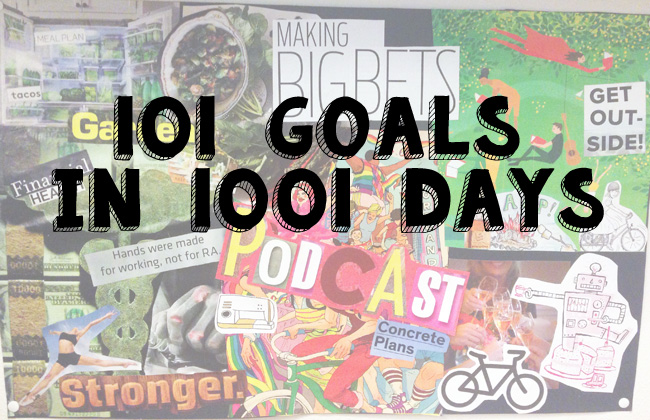 Anyone who knows me that I love lists, goals, and data. Each year, I set new year's resolutions/goals and I publish them on my website, and review my success at the end of the year.
I'm always looking for more interesting ways to document my goals. Since last year's site death of 43things (on which I was pretty active for 8 years) there hasn't been much of a general online goal setting community. Recently, though, a successor to 43things has popped up: dayzero project, which encourages users to set a list of "101 things in 1001 days".
Of course, I'm eager to do it. So here is my list of 101 Things in 1001 days, which ends on October 29th, 2018.
Travel
Travel on the trans-siberian railway
Travel to 30 countries (currently 20 on 2/1/2016)
Travel to China
Walk on the Great Wall of China
Travel to Russia
Travel to Japan
Save $6,000 in a "random travel" fund
Travel to all 50 US states (currently at 47 on 2/1/2016)
Travel to Greece
Take a bike trip >3 weeks
Publish a travel zine
Stay in an ice hotel
Witness the Northern Lights



Creative

Finish NaNoWriMo
Write my personal manifesto
Write my "political platform"
Sew pants
Publish a zine for each birthday
Publish a comix
Write in 1-line-a-day journal every day for 6 months
Learn how to draft patterns from scratch
Make a robot
Sew a duvet
Go on a writing retreat
Sew a regency gown


Financial

Save 50% of my income
Publish expenses/income every month for a year
Max out my 401K (if I have one available) + Roth IRA
Get paid to speak
Identify a second stream of income
Make $5,000 from side hustles
Do a no-spend month
Save a $10,000 emergency fund
Ask for a raise
Be paid to teach a personal finance class
Have a net worth >$20,000


Professional Development

Learn SQL
Learn to work with VAN
Learn Pro Tools
Be nominated for Skidmore Prize
Learn Adobe Audition
Submit a talk to OSBridge
Speak at a TedX event
Attend toastmaster's regularly for 3 months
Learn every country in Africa on a map
Get paid to write an article
Make a person-to-person fundraising ask >$50,000
Land a major federal grant
Apply for a Fulbright

Pass the C1 Level test in German

Pass the C3 Level in German

Apply to a professional development/learning intensive program





Fitness & Health

Run a half marathon in <2 hours
Be able to do the splits
Be in the "best shape of my life"
Back squat my body weight
Do a 30×30 challenge (30 minutes of physical activity for 30 days)
Learn a choreographed dance
Learn to swing dance
Take a season of ballet classes
Compete in a swing dance competition
Participate in a public dance performance


Experiences

Go a week without the internet
Take a vacation in my own city

Complete whiskey club at Holmans

Fill out my whole whiskey tasting journal
Host a private karaoke party
Grow habeneros
Grow an herb garden
Elaborately decorate a cake
Go paragliding
Organize a clothing swap party
Host a board games night
Host a dinner party

Host a house party fundraiser

Write an op-ed
Lobby in Salem
Go cross-country skiing
Volunteer on political campaign
Run a conference

Lead a library scavenger hunt bike ride




Indie Web 

Blog weekly for a year
Redesign my website
Launch German version of my website


Radio/Podcasts

Volunteer for OPB
Launch podcasting network
Go on a podcast/radio tour
Host a radio show

Publish a season of Transportini




Emergency preparedness

Have 6 weeks of food storage
Have one week's water storage


Random (AKA I was running out of things)

Write a letter to three people who have made a difference in my life

Read A Random Walk Down Wall Street

Publish an ebook

Read 50 books in a year

Take a sabbatical

Read all of Harry Potter & the Philosopher's Stone in German




Meta

Write a letter to myself to be opened when the 1001 days is over




Donate $10 to charity for each task I don't complete

Document each task on my website

Put away $10 for every goal completed