I set 15 resolutions for 2015. How did I do? (For each resolution that has a beeminder graph, I've linked the the graph with a bee icon).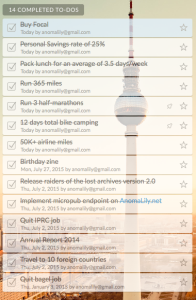 Buy Focal: radical budget documentation  – taking a photograph of every single purchase for an entire year.
Success! I did that thing. You can view it here. I think it was a very valuable exercise to do for a year, but I am happy that I now will not have to take a picture every time I'm at the grocery checkout line.
   Attain a personal savings rate of at least 25%
Success. I did this, too. Thanks to asking for a raise and freelance work, this year was my highest earning year of my life. Unfortunately, in 2015 I spent $16,022, which was my 3rd highest spending year (highest being 2009 and 2012 due to school tuition and living internationally).
I earned $37,500 gross, taxes will be TBD, but my take-home this year (after 401K, medical insurance, and taxes) was $30,353, my highest ever earning year. This puts my savings rate for 2015 at 41% including my 401K.

 Travel to 10 foreign countries.
I did this, too. The reports are here.

 Pack lunch for work an average of 3.5 days/week.

I actually successfully packed lunch all but 10 work days this year, vastly overshooting my goal! Yay! Packing lunch is great. The key I've found is meal planning and learning to love leftovers.

Stretch 65 minutes a week.
I failed, miserably, once again. Stretching has never, ever been a successful new year's resolution since I stopped figure skating.  But hope springs eternal. Considering shelling out for really expensive classes (like IBarre yuppie stretching classes) in order to make myself do this.
Publish 24 podcast episodes.
Massive fail. Transportini stalled out, and BikePortland.org podcast went on hiatus. I published 4 podcast episodes all year. Working to restart this in 2016 in a significant way, but trying to line up sponsors to help pay for my (and others') time on each episode. Each 10-minute episode of Transportini takes 22 hours to produce, and each 35-minute BikePortland episode takes 18 hours to produce and "buying" that time has proved to be challenge.
  Floss daily.
I kept to this pretty darn well. Beeminder is really helpful here.

Run 3 half-marathons.
Reallllly close, but I only ran 2 half marathons: Berlin Halbmarathon and Run Like Hell Half-marathon.

I did just under half of this goal: 221.5 miles. In retrospect, this was a pretty ambitious goal based on a really good year of running (2014).

Thank you, Ryan Barrett, for creating a micropub endpoint for wordpress and doing all the heavy lifting for me.

 Accrue enough airline miles for a ticket to Asia in 2016.
I do, in fact, have enough miles to fly to Asia, but I'm saving up even more to attempt to fly first-class to Moscow, and I'm saving up enough money to be able to take 6 weeks off work, so I won't be flying there until 2017.

 Publish annual personal report zines.
I'm now only doing the data review on my birthday in July, mainly because the last week of December is the craziest time of year for me at work. However, I did do mine in July again. You can see this here.

 Release Raiders of the Lost Archives Version 2.0.
This got pushed out just in time for Raiders of the Lost Archives this year thanks to the hard work of Aaron, John, and Dion.

Definitely did NOT make headway on this one. My hard deadline for this is July 2017.

 12 days total spent bike camping/touring.
This was either successful if you count Cycle Oregon as bike camping/touring or unsuccessful if you don't. Since I didn't get to ride every day during Cycle Oregon (I'm on it for work and have to be in a vehicle sometimes.) I'm going to say "no". I've helped mitigate this issue in 2016 by planning out all my camping trips for the year in January and taking the time off work early so that I don't realize too late in the season that I hadn't bike toured much (as I did this year.)
Overall Verdict: I actually did pretty well this year. I'll give myself a C+/B- on New Year's Resolutions. I did great on a few key ones, and failed pretty miserably at a few other key ones. Some of that was due to too-ambitious targets, others were due to pure laziness.