This post is the first in a series of  4 end-of-year posts. Next up, due tomorrow, is a post about Systems for Keeping New Year's Resolutions.
How did my 2014 New Year's Resolutions go?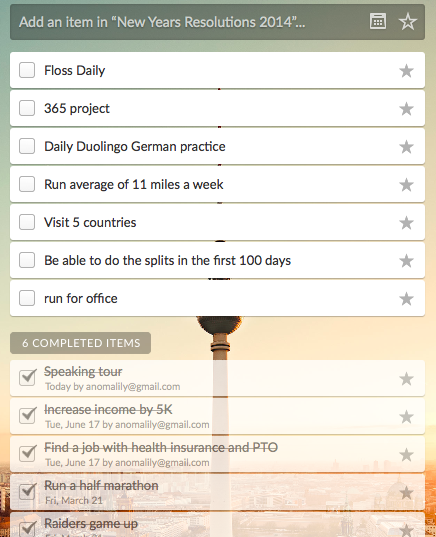 Last year I published the 2014 Ridiculously Awesome, Dammit (RAD) Goal Manifesto which was a reaction to a pretty rough 2013. The manifesto contained a bunch of ambitious goals on it and included an extensively documented budget and travel plan, which all got thrown up into the air when I changed jobs in May and had to create a new plan from scratch. While I'm very motivated by large and ambitious goals, in traditional New Year's Resolution style, the ones that require specific, daily practice end up being the most successful for me (this is true for the general population too.) The theme this year was that I had a lot of success with resolutions that involved setting up systems of regular, measured rewards, documenting progress, and a demonstrable goal. I had less success with the ones that I didn't do this for. Here's the successes and failures of 2014:
 Daily German Practice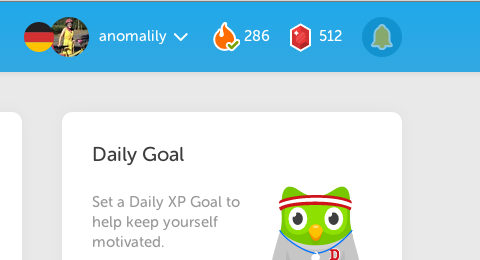 Successful achievement! I'm on track to have done Duolingo german every day this year, with just a week left in the year. The built-in gamification in Duolingo makes it really easy to be motivated to engage with this on a daily basis because I became obsessed with keeping my streak number. I've stayed motivated and aware of this resolution each day. The fact that there's quantitative demonstrations of my progress is really helpful compared to a vague "study more German resolution." I can't really speak positively enough about Duolingo.
At times I became a bit obsessed with my duolingo streak, including going on an 8 mile run in below freezing weather to get to data service while on a bike camping trip, spending my 20 minutes layover on a cross-country train trip to type "Ich bin Eichhornchen", and regularly stepping out of  parties at 11:50PM to go outside and stand next to the people smoking cigarettes to shout "Egal, wie alt er ist" over and over at my phone in order to get my points for the day. I'd have a streak number that was 70 days higher, but unfortunately in Febuary, my plane landed just after midnight local time so my practice lesson didn't get counted for the current day.

Floss Daily
I've been great at this in previous years, but I fell behind on this this year while traveling and then got off track,  and it's noticeable now when I try to pick up flossing back up. So this was a so-so resolution this year. I've created a beeminder goal for flossing in order to get back up to speed on flossing (if there's money on the line, you know I'll do this!) Here's the (currently empty) graph:

Be able to do the splits in the first 100 days
About the most massive fail ever. I'm not sure I stretched more than 2 days to achieve this. Stretching is my most consistently created and subsequently ignored resolution. Even when I was a competitive figure skater who relied on flexibility I still found it really challenging. On the flip side, it's the thing I know I would see a huge payoff from, as when I'm stretching regularly, I have less shoulder pain (old skating injury), I run faster, and my arthritis bothers me less in the morning. I still haven't found a weasel-proof method for making myself stick to daily stretching though. I'm open to any suggestions (particularly ones that auto-fill to Beeminder.)

Run for office
I was highly considering a run for the (not highly ranked, volunteer) position of democratic precinct captain in the last election, but I ended up deciding it wasn't the right time to run after I switched jobs in May. This one's on the back burner for awhile.

 Increase income by $5K after taxes
Success! My total taxable income in 2013 was $10,980. This year I have yet to total up all my income (I had 6 jobs, many simultaneous and most independent contracting, so the accounting is complex), but I earned more than $25,000 in 2014, so I increased my income by more than $15K over the previous year at a minimum.

 Run a half-marathon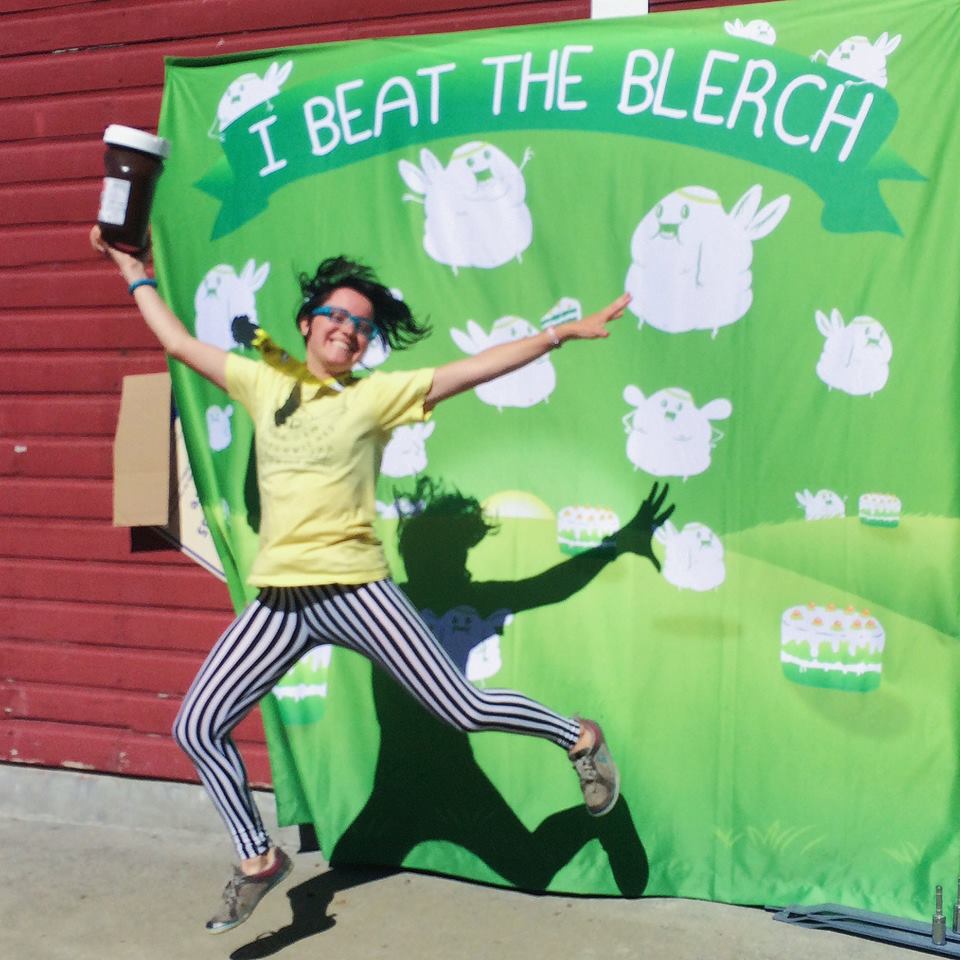 Hell yea! Not only did a run a half-marathon this year, I ran  *back to back* half-marathons in September, putting in a 2h01m time for my solo half-marathon on Saturday, and then running the same run with my friend Jim as a visual guide on Sunday. That means I ran more than 26 miles in a weekend, which is pretty awesome.

 Raiders Game Launch

Yay! Not only did we launch the Raiders zine library cataloguing game, but it was a very successful app for the Raiders of the Lost Archives 24 hour zine cataloguing event in February, where we catalogued 1400 zines in 24 hours. This was a huge improvement over the google doc we'd been using previously. The app was used all year by our cataloguing volunteers, and in 2015 we're planning on launching a 2.0 version of the app with a bunch of key upgrades.

 Find a job with health insurance and PTO
Yup! I did that. I can get sick now and go to the doctor AND get a sick day. Look at that, upward mobility! Middle class, here I come!

 3 Public Speaking Engagements

I overachieved on this one, which was set purposely low because I didn't know what my finances for travel were going to look like. In 2014 I spoke at: the National Women's Bike Summit, at a live radio show in Chicago, the Women in Transportation Seminar Conference, the iYouth Library conference in Seattle, the Portland Bureau of Transportation's Brown Bag Series, and the Zine Librarian (Un)Conference.
Visit 5 countries
Absolutely massive fail; I didn't even leave the states this year. I ended up getting a new job in May which meant my international travel plans had to be delayed due to waiting for PTO and scheduling around work engagements. Good news is, though, I managed to book a 10-country, 24-day trip in March 2015 so I'll catch up to my long-term international travel goals (100 countries by 2022) easily.

Run an Average of 11 miles a Week
This was pretty ambitious and based on my training schedule when I'm in my best mode.  I ended up average 6.3 miles/week, which accounted for a few multiple-week breaks in my training schedule. I'm still pretty happy about my running this year, despite not meeting this ambitious goal.

365 Project

Fail: I got 81 days into this year-long photography project and then found myself not getting enough out of it, so I left it behind. I've done enough 365 projects (this was to be my third) that I think I got burnt out on the format, and I'm ready to try something new for a year-long photography project.
Overall Verdict: Room for Improvement
Verdict: 50%, which is pretty good odds for a batting average, pretty bad for calculus class. The failures on a few parts were due to success on other goals (full-time job meant I couldn't go travel in Europe or run for office), which means I clearly had dependency issues in the creation of my New Year's Resolutions. All in all, there's improvements to be made.