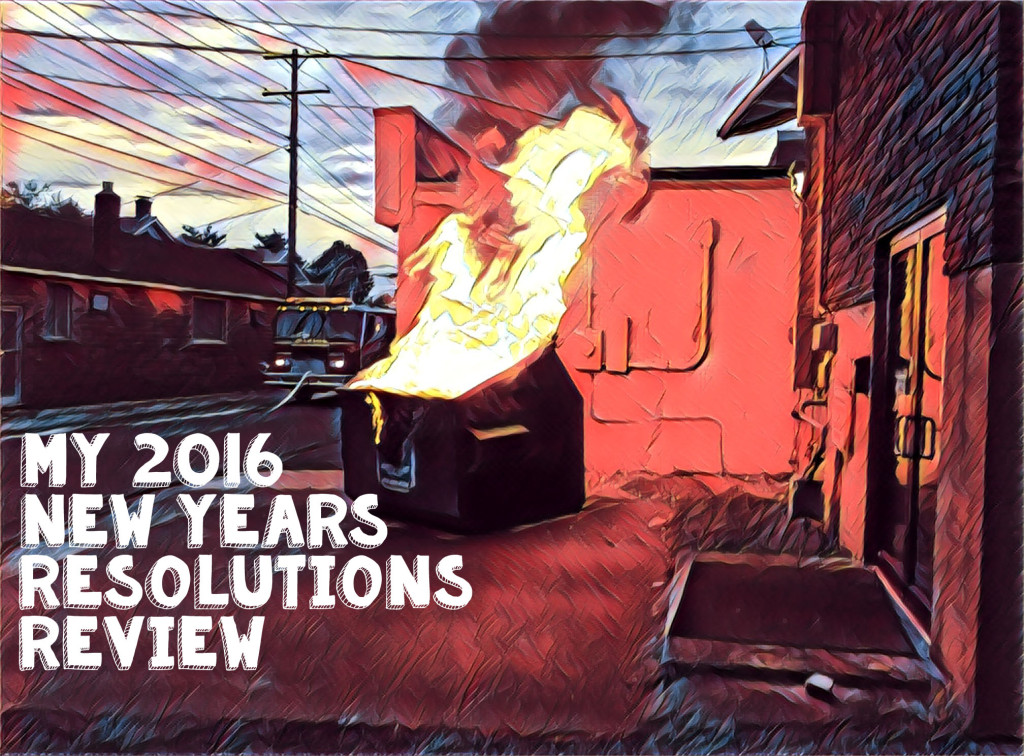 For the past several years, I've been posting my new years resolutions online and then at the end of year, reviewing my success.
So, as I'll talk about in my annual review comic (coming out in early January), this year was a giant cluster of crazy where absolutely nothing worked out the way it was planned. 2016, in a nutshell, was unpredictable:  3 totally different careers, a jump into self-employment, moving house with a week's notice, a crazy presidential election, and, well, we'll see how that translated to my 2016 new years resolutions.  Here's the review:
The Successful:
 
The Kinda:
Secret unnamed project with Beeminder and Aaronpk – I could pretend that I totally accomplished this since it was a secret project and you don't know if I accomplished it, but it was actually Carrot/Stick which we announced but then delayed due to Aaron & I's job upheaval this year.
Have 4 maniac weekends/personal hackathons this year – only did 2- things got crazy when I switched jobs. Although entrepreneurship is kinda like a personal hackathon every damn day.
Take three short overnight bike camping trips –  Took only 2 all year.
Create automatic triggers for friend/family check-ins – I did this, but it took me until after the summer to create it. It's essentially just a spreadsheet.
Be able to do the splits by year-end – Okay, so I didn't succeed at getting to the splits, but it WASN'T from lack of trying this year like every other year. I stretched at least 10 minutes a day, 6 days a week, ALL year. I started doing hot yoga a few times a week. I'm more flexible than I've been since I was a teenager, and I believe the splits are on their way soon…
Run 365 miles – I gave up on running regularly, finding I enjoyed getting my cardio through dance classes and HIIT instead once I got classpass. I went to the gym a minimum of 5 days/week every single week of this year, so I'm calling this kinda-win in the "spirit" of the resolution.
Have my podcasting habit break even –  Kinda, we actually stopped paying rent for the studio and founded StreamPDX, and I stopped producing BikePortland episodes once I took the political job, meaning that breaking even was really easy with far less expenses.

Continue coffee only on weekends – I started a daily coffee habit once I started working in politics in May, I haven't broken it yet.
Chair the Harry Potter Alliance  board development committee into a successful HPA10 Gala – I successfully chaired us into cancelling the gala, because Reasons.
Produce & release Transportini Season 1 – This podcast will never come out I guess, but we made StreamPDX instead as our podcasting project for the year!
Read 1 Economist article every day – umm, turns out I hate reading on the iPad from the library, and I'm too cheap to subscribe on paper.
Store 28 gallons of water for myself & Aaronpk & Indiewebcat – Oops. Should do that still.
No longer applicable
Overall Verdict: B+
I actually will score myself pretty high on the resolutions this year despite the massive life upheaval. I did great on a few key ones, and ended up with a lot of progress in the spirit of my resolutions, if not the letter. I drank way too much coffee, though.