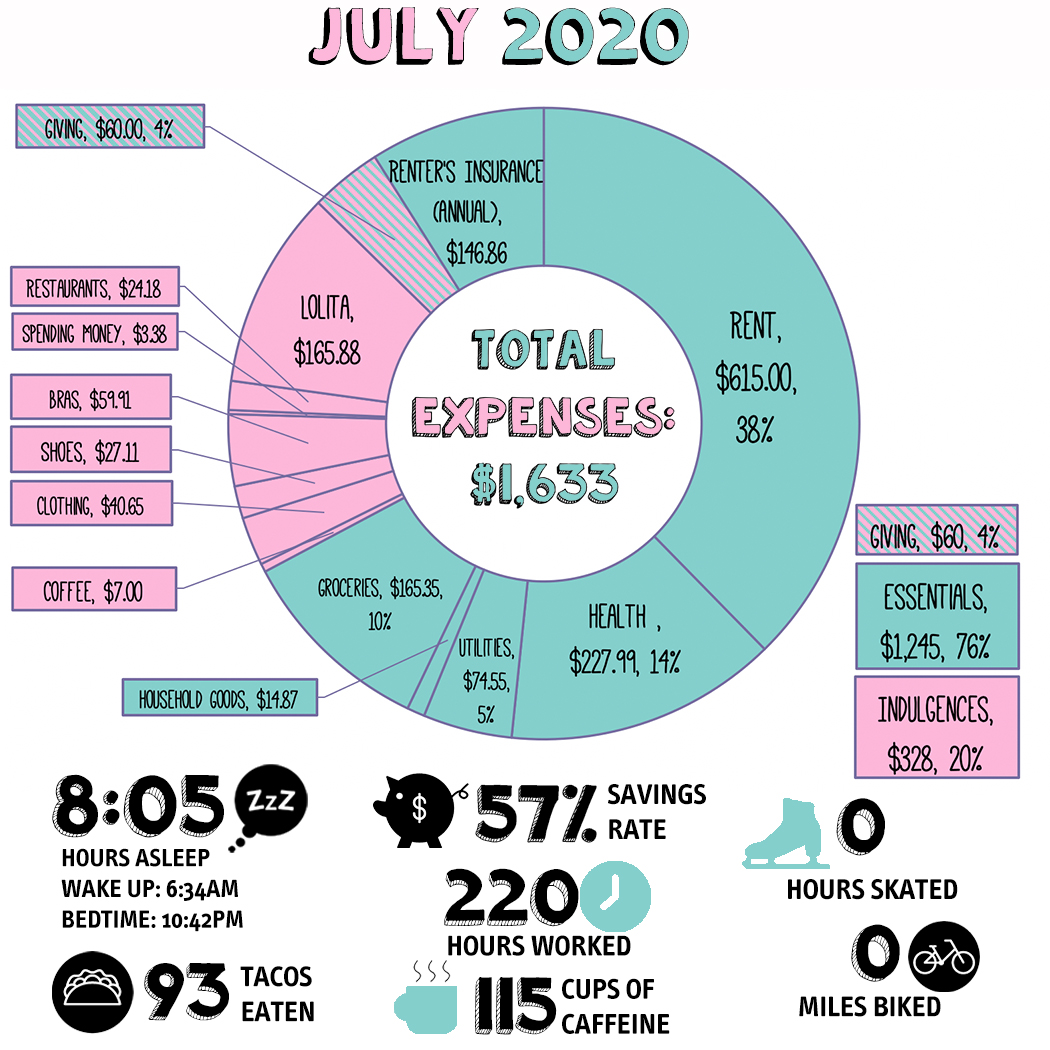 So…what happened this month? Here's a list of random things.
Portland got national attention as federal DHS agents were deployed and were using unmarked vans to kidnap people off the street.  The local protests for Black Lives Matter got even bigger in response. These protests have going on daily since the end of May and have suffered excessive use of force by the Portland Police. The deployment of federal agents stepped it up even further, injuring protestors and reporters with rubber bullets and tear gas – including my friend and former housemate Trip Jennings, who ended up having to get two surgeries on his eye after getting metal shards in his eye, shot at while doing press coverage.
Things are NOT GOOD in this timeline.
Also, that whole pandemic thing is still going on. Cases in the US rose so much that many places, including Oregon, had to either backtrack on re-opening or pause moving forward to the next phase. All the rinks that had been doing private ice skating sessions had to shut off again.
I didn't bike at all this month! Turns out I don't really bike when I don't have anywhere to go. However, I did start reluctantly running again, and am going to probably work my way back up to ~10miles or so. Not because I like running, but because it's an efficient form of working out.
I had a birthday! I didn't do much, though I did take the day off of my day job and kinda lounged around. I still was very much recovering from the whole… working 70 hours a week for the past 7 months while a global pandemic and economic recession was going on…
Here's my mini annual report from the 33rd year of my life:
⠀


🌮

 Eaten 909 tacos⠀


✈️

 Flown 75,851 miles⠀


☕️

 Drank 1,224 cups of coffee⠀


💸

 Spent $18,141 USD⠀


💵

 Saved $14,753.44 ⠀


🚲

 Biked 1,152 miles⠀


🌃

 Spent 69 away from home⠀


🚫

🇺🇸

 Spent 56 nights out of the US⠀


🛂

 Traveled to 4 countries 

🇸🇬

 

🏴󠁧󠁢󠁳󠁣󠁴󠁿

 

🏴󠁧󠁢󠁥󠁮󠁧󠁿

 

🇦🇺

⠀


⛸

 Skated 22:35 hours (damn Covid rink closures)⠀


🚗

 

⛔️

 Driven 0 miles⠀


💰

Taken Home $34,964⠀


🚫

 Drank 0 alcohol⠀
I learned how to properly curl my hair so that it looks good since I can't get a darn haircut anytime soon.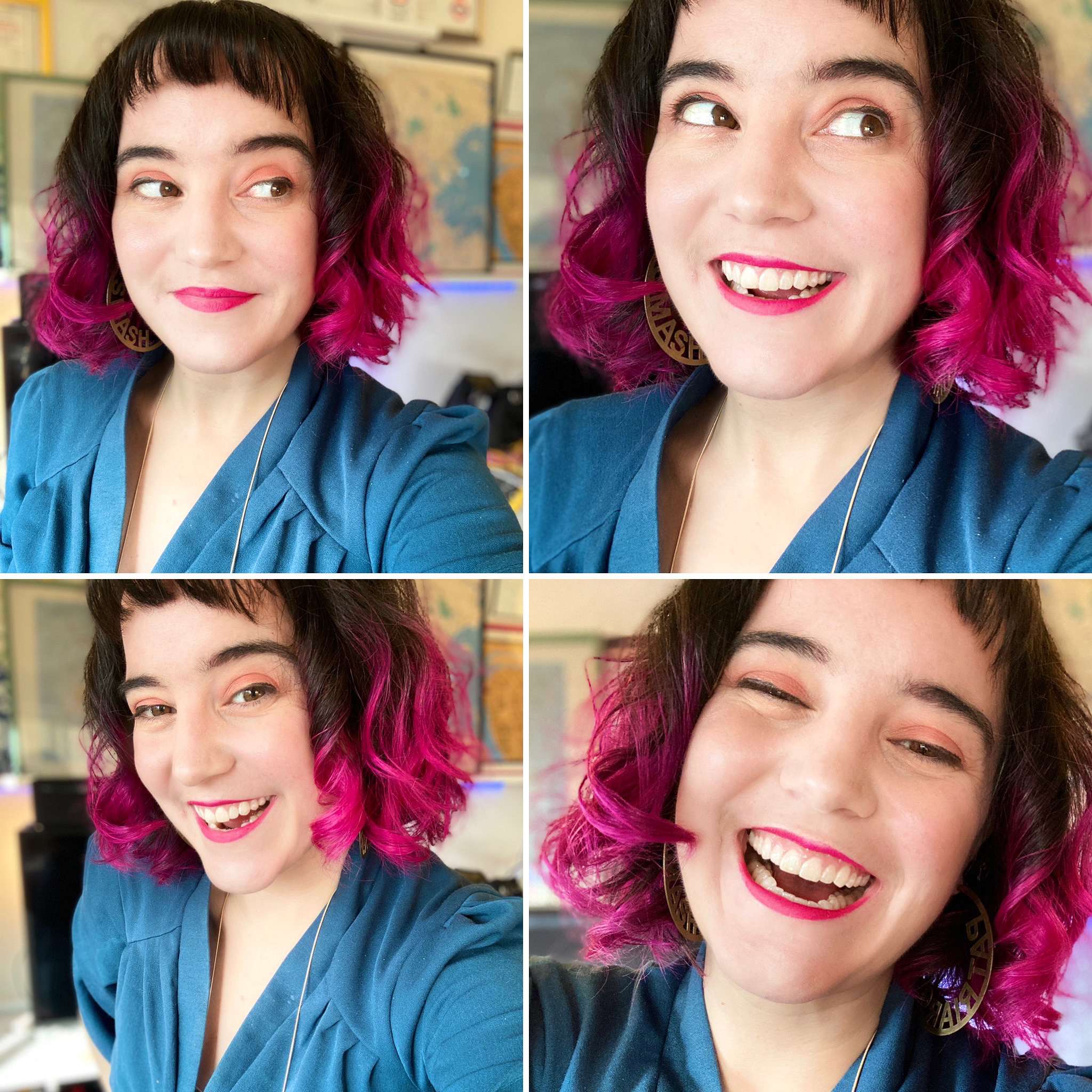 Oh My Dollar! podcast took a summer break from posting, but I did a lot of cool, original journalism and interviews that are coming out this fall. I'm excited to level things up.
I gave a talk on budgeting for creatives as part of the Patreon creator workshops.
I worked on a totally new product line that is coming out in September. I hope people like it!
I did 4 livestreams over on youtube!
I also bought my first bras since 2015…I did the thing where I bought a ton of bras and returned the ones that didn't work. I even filmed a haul…which of course I have not yet edited for youtube…ugh.
---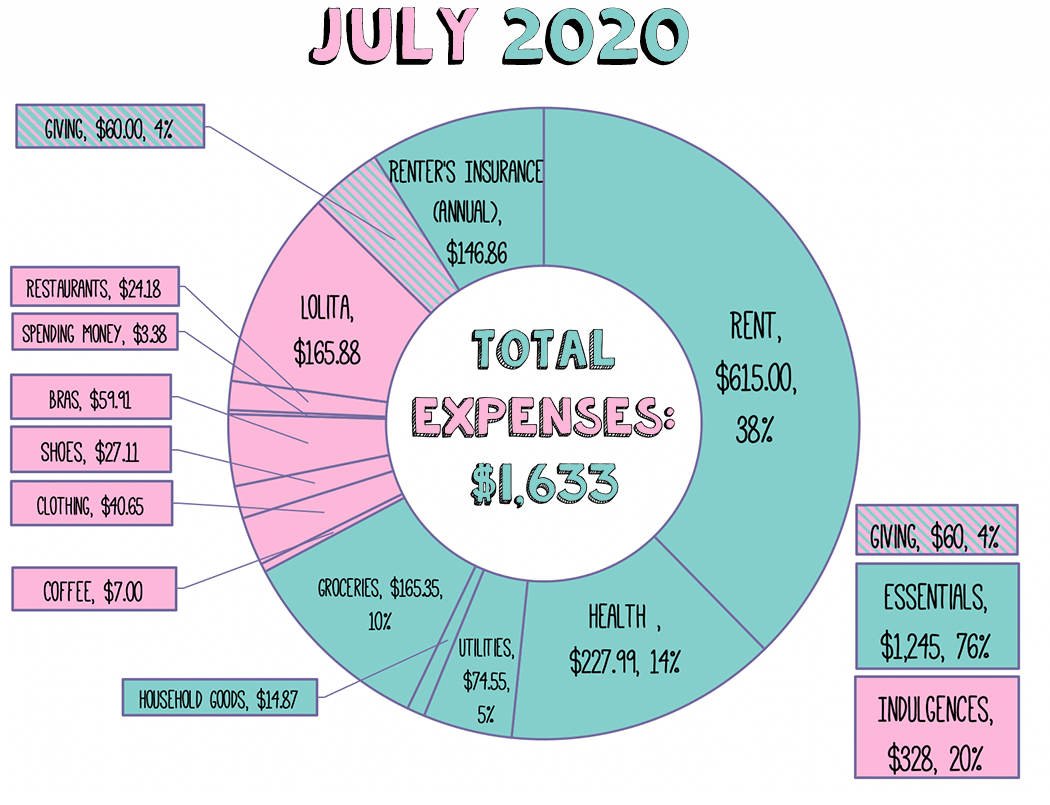 July 2020 Post-Tax Income: $3,461.51
Only 2 jobs now! 
Day Job: $2,938.67
Bank account interest: $.08
Birthday Gifts: $105.00
Oh My Dollar (full income/expenses report below): $375.00
Full July 2020 Spending Report
Total Spent: $1,632.73
52% of total annual budget at 58% of the way through the year.

Household & Insurance – $704.42
Rent: $615
Water, Commons, Garbage, Sewer: $32.50
Trash: $7.50
Electricity: $34.30
Household Items (detergent, TP, toothpaste, razors, etc): $14.87
Internet at Home: $0 This is now paid for by SSO's employer due to being remote employee, was $20 per month.
Insurance – $146.75
This is my annual cost for renter's insurance, which I save for in a sinking fund every month ($13.00) which makes the expense super easy.
Charitable – $60.00 (4%)
I am donating more through OMD (below).
Organizations I am supporting: The Numberz,  XRAY.FM  and Mutual Aid for Immigrant and Refugee Students at Reynolds HS.
Basic Food – $172.35
This is quite high because it was my birthday this month and I decided to treat myself to several fun snacks.
Basic Groceries: $152.45
Treats (non-essential snacks): $12.90
Coffee/Tea For Home: $7.00
Travel – $0 (lol)
Health Insurance Premium: $204.00
Massager: $23.99
Figure Skating $0
The rink is closed again as case numbers rise in Oregon.
Year to date, my marginal cost of skating is $10.21 per hour.
Looking Good – $127.67
Lots of clothing purchases this month, but mostly me trying to get things that were needed – new tights after mine had holes, replacing a pair of shoes that couldn't be fixed with some used ones, and finally getting new bras after mine were completely stretched out.
Clothing: $40.65 (Tights from Snag Tights, and a dress from Poshmark)
Shoes: $27.11 Used from Poshmark
Bras: $59.91 (Three Bras from Aerie, I last got bras in 2015, so I feel okay about this)
Extra Food + Drink – $24.18
Takeout: $18.98 – got a coupon for 50% off for Doorpash Subscribers, so got a birthday takeout with 30% tip! Nom!
Coffee: $5.20 Fancy Birthday Coffee Takeout
Flotsam: $3.38
Costumes $165.88
Lolita: $165.88 – This is FINALLY the rest of the cost of the semi-custom Marie Antoinette dress I had ordered back in March. It is coming…soon! I had hoped to wear it for my birthday, but that happened several weeks ago. Oh well!
Savings
Now that my emergency fund is back to being roughly equivalent to a year's expenses, I have started to ramp up my savings in other categories, including retirement again.
I do not qualify for my employer-sponsored Simple IRA until Jan 2021, so for now I am saving in a traditional IRA – particularly because I expect to have a high tax burden this year.
I have also begun saving cash towards the possible goal of paying for a master's degree in cash in 2021-2022. There is nothing certain about that plan, but the worst case scenario is that I save cash and I have more cash saved and can always invest it instead if the masters doesn't happen. Not really terrible, all things considered.
Retirement savings: $400
Cash savings: $1,588.67
Savings rate
: 57% of Post-Tax Income
YTD Total Savings: $16,509.84/$20,000
(82.5% Total of goal at 58% of the way through the year)
---
My purrsonal finance society members have been keeping the business afloat for now, with book sales, speaking income, and advertising all down. But it's going okay. I've been able to donate still a chunk of change each month and keep paying operating expenses and this month I even managed to pay myself a bit.
I am looking at doing some small product launches in the fall, and that means I need to save cash to be able to buy inventory. I'm leaving a lot of money in the business right now to prep for that.
This is cash-based accounting, not accrual, so this only accounts for income received this month, not invoices billed.
Gross Receipts + Sales: $1,050.95
Amazon Book + Kindle Sales (net after fees): $21.13
Shopify/Direct to Consumer Book Sales: $206.96
Radio Ads: $15.41
Wholesale (Buyolympia): $78.14
Dividend: $.04
Patreon Memberships: $729.09
Total Expenses: $605.80
Charity: $100.00
Operating Expenses: $274.41
Convertkit: $49
Exist.io $6.00
Gyroscope: $12.99
Mailgun: $7.52
Meals: $20.79
Backblaze : $6.00
Storage: $6.97
Hosting + Servers:

 $59.95 (Linode and Dreamhost)

Media Subscriptions: $5
Notion: $5.00
Advertising: $2.00
Office Supplies: $22.59
Professional Development: $56.00
Adobe Creative Cloud: $29.99
Supplies for Videos: $44.22
Cost of Goods Sold: $70.74
New Secret Product Samples: $23.18
Shopify Monthly Fee: $29.00
Shipping Supplies: $29.98
Shipping: $11.14
Net Income:
$502.63
Tax Savings: $151 (25% of net income)
Lily's Salary: $375.00