June Expense Report
June included 2 conferences, a week-long trip to the Netherlands, a writing retreat, and prepping for my big epic scavenger hunt birthday party. It also was the first month that I took a paycheck from Oh My Dollar! which is not yet quite enough to support myself off of, but getting there!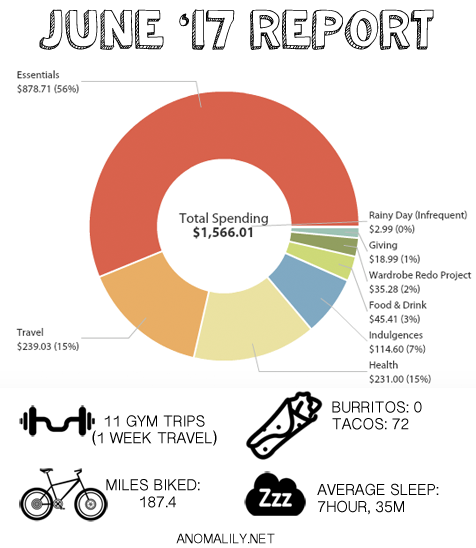 Essential Expenses (in descending order): $878.71
Rent: $615.00
Groceries: $120.78
Transport/Bike: $53.00 (new cables)
Electricity: $31.38
Water/Garbage: $27.50
Internet: $19.97
Household Goods: $11.08
Health Care: $231.00
Health Insurance: $231
Travel (1 week in Amsterdam): $239.03
Restaurants/Food: $107.81
Incidentals: $55.03
Hotel: $35.19
Local Transport: $35.00
Bars: $3.00
Trans-Siberian Railway Trip: $0
Put away $600 towards future expenses
Running total YTD: $363.36/$3,000 budget
Wardrobe Redo Project: $35.28
I gave myself a $750 budget to redo my clothing this year. This is some of that being used.
Discretionary (in descending order): $114.60
Haircut:  $57.50
Fitness Monthly Membership: $39.00
Spending "Fun" Money:  $18.10 (candy, chair massage at airport, party craft supplies)
Discretionary Food & Drink – Non Travel (in descending order): $67.68
Restaurants: $22.18
Coffee: $16.73
Bars: $6.50 (two kombuchas)
Misc: $21.98
Charitable giving: $18.99
Gifts: $2.99
Savings (not pictured above): $502
Roth IRA contribution: $200
Cash Savings: $302
Total Spending: $1,566.01
Total After-Tax "Day Job" Income: $1757.50  + $1125 business paycheck
YTD Spending: $10,198/ $20,000 maximum goal
(50.9% of total at 50% through the year)
Income Statement
My stated income comes from my May paycheck, because I live on last month's income. That means all income from May was allocated towards June's expenses.
This was my first month ever taking a paycheck from my business, Oh My Dollar!  My taxes are saved for before I issue my paycheck, as are business expenses and a profit distribution (thanks to reading Profit First) – so what you see here is what I keep. In the coming months, I plan to release quarterly reports of my business income and expenses (although right now it's not *that* interesting).