And now, here is a report!
March Expense Report
The biggest unusual expenses this month were plane tickets to Dublin and from Shanghai for my big train trip across Europe & Asia (Dublin > Shanghai over 30 days by land and sea) during September. I'll see a lot more expenses for this trip come in over the next few months as I get train tickets and visas, but plane tickets were the first step.
My tickets came to $322 – for three first-class international tickets. Not bad, eh? Those are the taxes & fuel surcharges I paid for "free" rewards tickets using Chase Ultimate Rewards & Alaska Air points I'd been specifically accumulating for this goal. Here's a picture of the first class suite I will be hanging out in on Korean Air (the market price of this ticket is $10,000+) between Shanghai, Seoul, and San Francisco.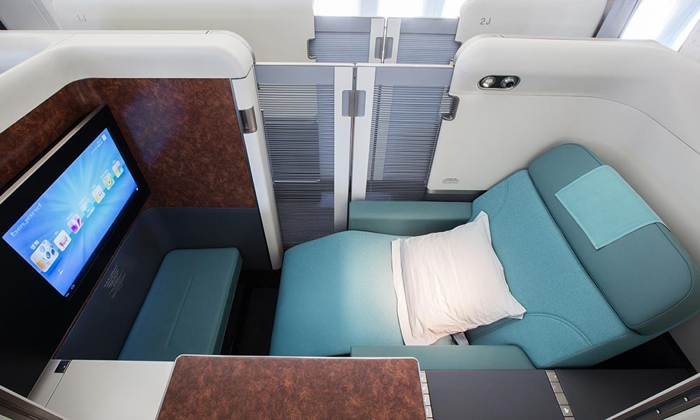 Credit card "hacking" is a hobby for people who love spreadsheets, deadlines, and have no debt except a mortgage. I don't advise it for most folks because you need to be highly organized and love research to get any real return- and you must pay off your credit card every single month. If you're interested in starting credit card hacking, I'd recommend checking out the Reddit Churning community guide.
I also went to the dentist so my health spending is higher. I no longer have dental insurance because I'm self-employed, but honestly, the dental insurance I've had access to has always been pretty bad (very low maximums that barely cover one procedure). I prefer to get a cash discount and pay up front, and I usually don't need anything more than a cleaning or exam because I'm lucky enough to have "good teeth genes". Or course an emergency can happen sometimes. Just the way it was in Sydney during my visit to my friends. But I was lucky to find a good dentist at Parramatta Dentistry (https://www.parramattadentist.sydney/).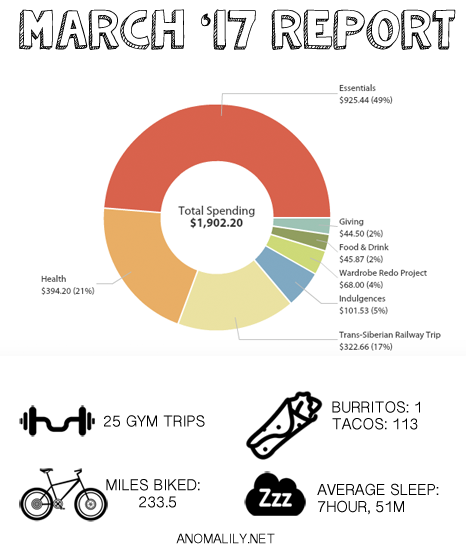 Essential Expenses (in descending order): $925.44
Rent: $615
Groceries: $166.97 (a bit high this month, many treats)
Transport/Bike: $53.00 (new brake pads + Biketown membership)
Electricity: $31.85
Water/Garbage: $20.19
Internet: $19.97
Household Goods: $18.46 (detergent)
Health Care (in descending order): $394.20
Health Insurance: $231
Dentist: $163.20
Trans-Siberian Railway Trip
Flights: $322.66
Running total YTD: $322.66/$3,000 budget
Wardrobe Redo Project: $68.00
I gave myself a $750 budget for the whole year to redo my wardrobe from scratch, this is a chunk of it getting spent.
Discretionary (in descending order): $101.53
Fitness Membership: $41.00
Aaptiv: $9.99
Haircare: $36.00
Spending "Fun" Money:  $14.54 (mostly candy  + chocolate bribe for my significant other to clean out the fridge)
Discretionary Food & Drink (in descending order): $45.87
Restaurants: $24.08
Alcohol for home: $9.00 (I'm not drinking, but I restocked the bar for hosting)
Coffee: $6.50
Nonalcoholic Whiskey Research Project ingredients: $6.29
Misc: $44.50
Charitable giving: $44.50
Savings (not pictured above): $100
Roth IRA contribution: $100
Total Spending: $1,902.00
Total After-Tax "Day Job" Income: $1,668.90
Income Statement
I am not currently taking a wage from my business, Oh My Dollar!  – I started up officially just 5 months ago, and am still in the growth stage. Luckily, I saved quite a lot of cash "buffer" – equal to around a year's expenses-  before I took a leap into my own business, allowing me to spend more than my income from my part-time day job on some months like these, without going into debt.
I am hoping to begin taking a small salary from my business in July and at that point I might publish more thorough business income/expense statements. The business is profitable right now, but not enough to live on.
My stated income comes from my February paycheck, because I live on last month's income. That means all income from March was allocated towards April's expenses.