May Expense Report
So, about a third of May was spent sick on the couch, contributing to a different, more convenience-based spending pattern this month.
A few things that were notably high this month: groceries were the highest they've been in over 3 years, a combination of my partner being out of the country, me being sick and wanting "easy foods" to make, and a general falling-down on meal planning. Incidentally, I talked about how great meal planning is for the budget on the Oh My Dollar! podcast last week with guest Nicole Dieker (who just published a novel this week!)
The clothing budget is high, a result of shopping for a dress/costume for my birthday party happening in July. I still haven't used up my $750 "wardrobe redo" budget for the year, but I'm getting eerily close to the limit. Awhile ago, I made the decision that if I sold any clothing, I could put the proceeds into the clothing budget and use them, allowing me to go over the budgeted number. We'll see if that pans out.
I've also made the decision to start spending more money on dance class. With my 30th birthday coming up in July, I've been going back and reviewing lists and goals from the past 10 years of my life. And one theme keeps coming up: valuing dance. I've deciding holding out on dance class to save a buck will not make me happy in the long run, so I've been reintegrating it into my budget.
I'm still not drinking alcohol, which has been great for my budget and my gut.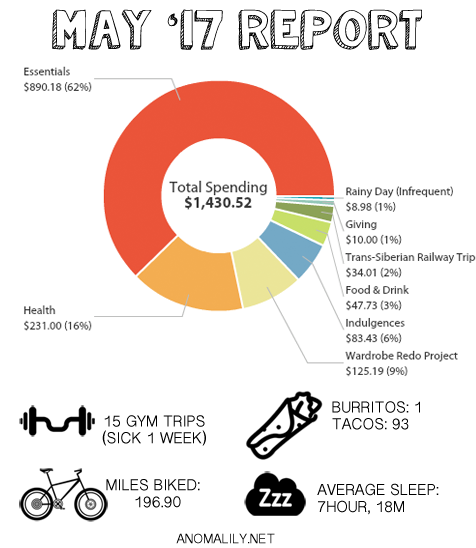 Essential Expenses (in descending order): $837.33
Rent: $615.00
Groceries: $190.68 (sky-high due to listed reasons)
Electricity: $27.55
Water/Garbage: $21.21
Internet: $19.97
Household Goods: $9.77
Transport/Bike: $6.00 (Biketown)
Health Care (in descending order): $231.00
Health Insurance: $231
Trans-Siberian Railway Trip: $34.01
Visa Invitation Fees: $34.01
Put away $250.00 towards future expenses
Running total YTD: $356.67/$3,000 budget
Wardrobe Redo Project: $125.19
I gave myself a $750 budget to redo my clothing this year. This is some of that being used.
Discretionary (in descending order): $83.43
Fitness Monthly Membership: $39.00
Barre class Groupon:  $20.00
Dance Class Drop In:  $15.00
Spending "Fun" Money:  $9.73 (candy and office snacks)
Discretionary Food & Drink (in descending order): $47.73
Restaurants: $33.98
Coffee: $10.75
Bars: $3.00
Misc: $18.98
Charitable giving: $10.00
Gifts: $8.98
Savings (not pictured above): $450
Roth IRA contribution: $100
Cash Savings: $350
Total Spending: $1,430.52
Total After-Tax "Day Job" Income:$1284.56 + $416.00 tax refund
YTD Spending: $8,585 / $20,000 maximum goal
(43% of total at 42% through the year)
Income Statement
My stated income comes from my April paycheck, because I live on last month's income. That means all income from April was allocated towards May's expenses.
There is no salary reported from my business, Oh My Dollar!  – I started up officially just 7 months ago, and am still in the growth stage. Luckily, I saved quite a lot of cash "buffer" – equal to around a year's expenses-  before I took a leap into my own business.
I actually officially took my first paycheck from my business on May 31st, which was put into June and July's budgets (because I live on last month's income.) Now that I've hit this exciting milestone, I may publish more thorough business income and expense reports in the coming months.