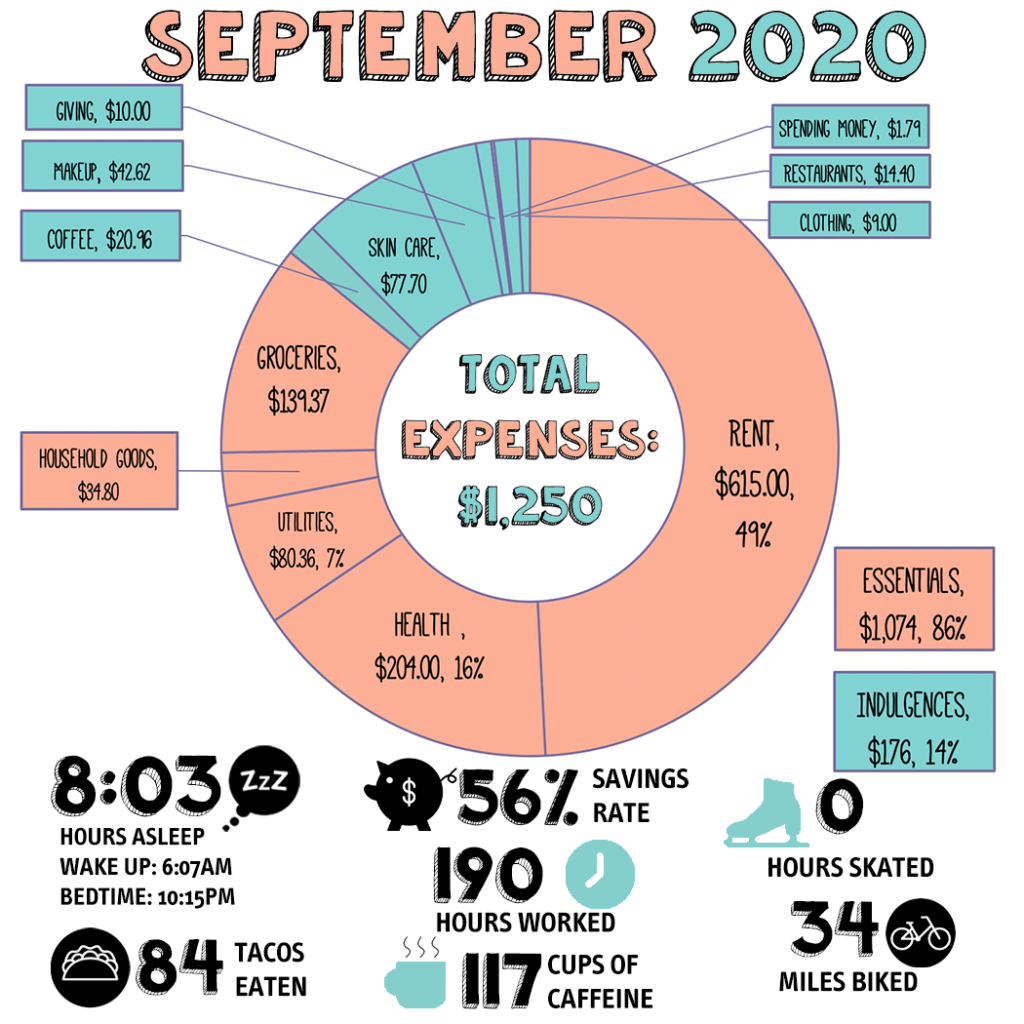 September 2020 was the roughest month for me, personally, during the shitshow that has been this hell-year. I still had it INCREDIBLY easy due to my privilege, (now) financial security, luck as far as living outside an evacuation zone when close to 25% of my state was under evacuation orders.
This month was really bad for a lot of other people in my circle (and around the world) at a scale I did not experience personally. I had two friends lose their houses, completely burned to the ground.  
It was a devastating month for the state of Oregon, possibly the worst human loss we've ever seen. The first confirmed deaths were family members of the Enchanted Forest including a 12 year old boy, The Enchanted Forest is an Oregon institution (a completely hand-made, family-run theme park inside a forest…it's about as Oregon as you can get.)
The fires stayed 0% contained for weeks,  national and local firefighting crews are overcapacity and just trying to preserve loss of life by assisting in evacuations. People were getting really late notice of evacuations, including sheriffs blaring their horns in the middle of the night as they drove through the center of town to tell people to get out RIGHT away. Cars melting tires as people try to escape.  There were over 500 square miles of active fires.
I talked a little bit about why the fires were so bad around Portland on a livestream in the middle of the fires:
Even though I didn't personally have to evacuate, we were on notice for a period of time and a lot of my friends had to evacuate or take friends or family in due to evacuation. I even ended up coordinating the evacuation of a llama and two turkeys 😂
The air quality in Portland was the worst of any city in the world for 30% of the month – not like casually bad pollution, we BROKE the upper limit of the "hazardous" air quality scale for multiple days in a row. The air quality was so bad that it wasn't really possible to escape even inside – our air quality was "hazardous" or "very unhealthy" inside of our house with every possible mitigation we could run (AC, windows closed, DIY air purifier).
The poor air quality inside really affected me – and everyone else. Our poor cat didn't know what was happening but she just knew it was bad. She was sleeping in weird places and sneezing and somehow even more tired than a normal cat. I was lethargic and unfocused for 10 days at work. I couldn't go exercise – even in the apartment was unsafe – to clear my head. I got super nauseous at one point just from standing up cooking for 2 hours. Our entire apartment building smelled like a campfire, everywhere. I was sleeping with an n95 mask on inside my own house.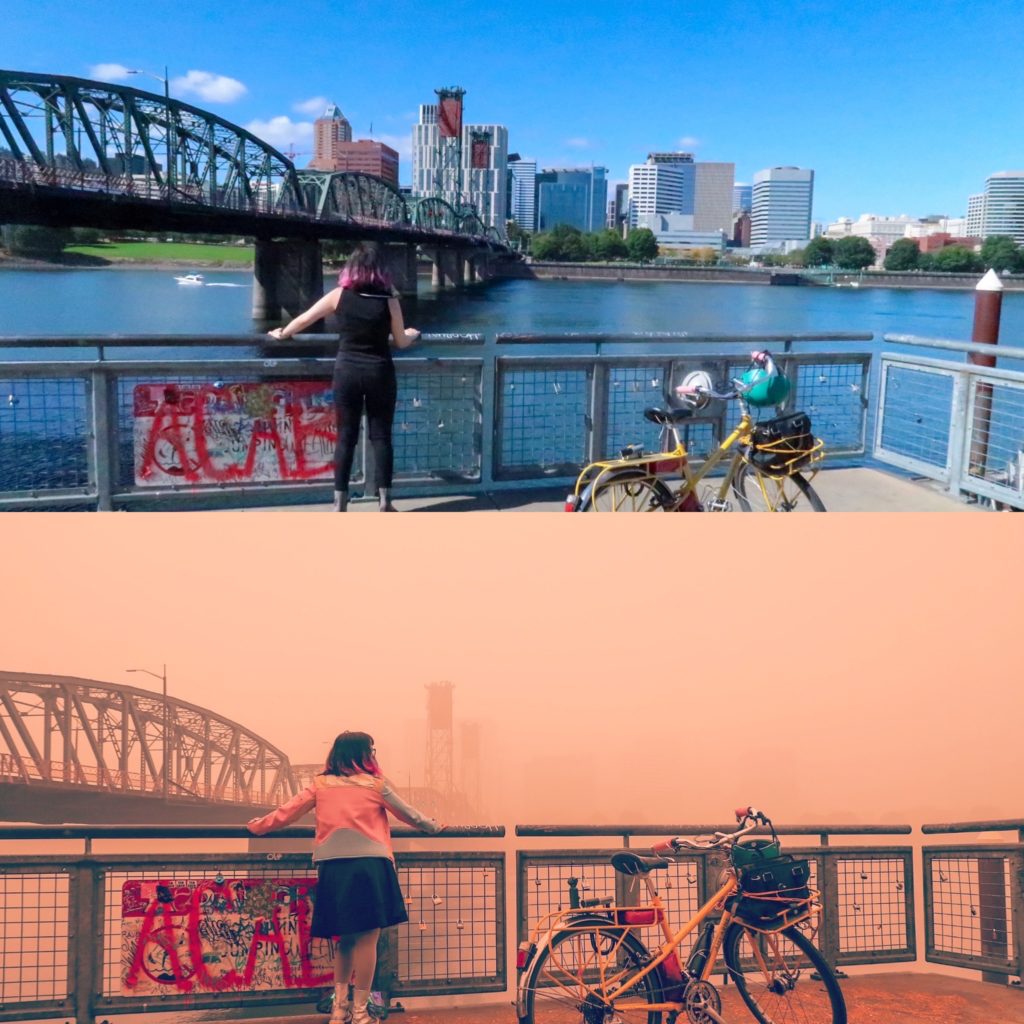 Aaron broadcast live from the smoke:
This was taken in our state capitol in the middle of the day: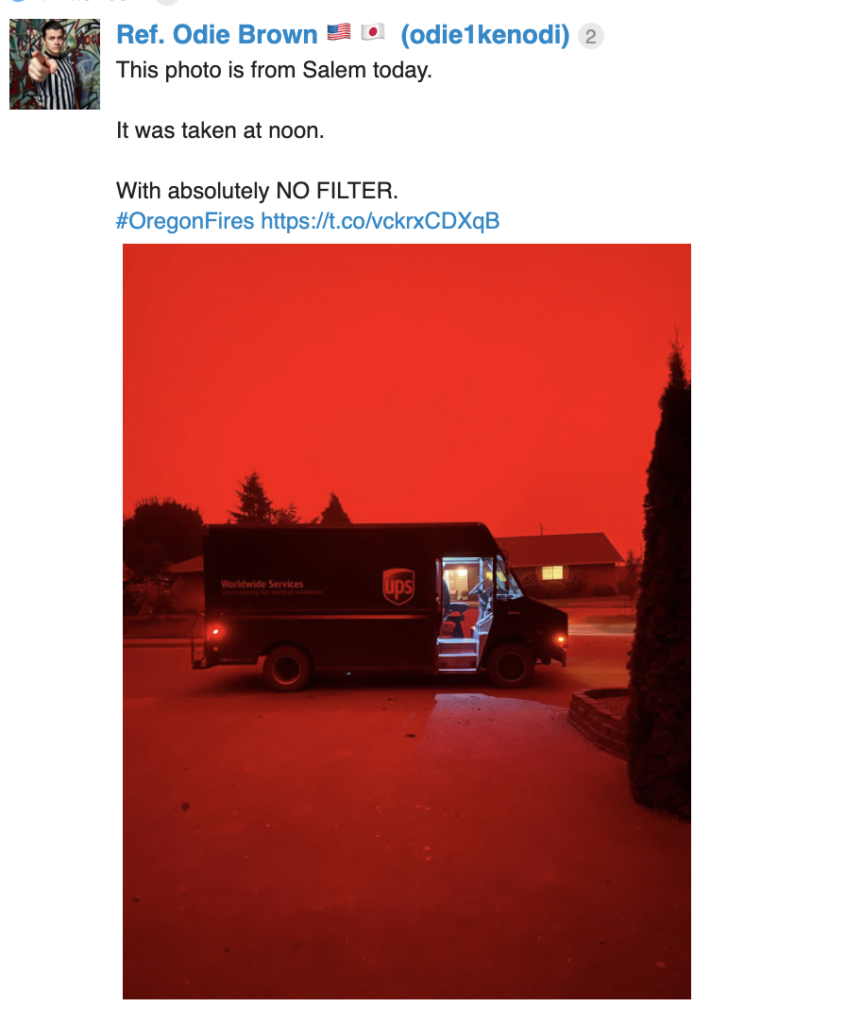 The air eventually did clear, my friends who lost their houses are being supported, and most of the fires are now about 50% contained. I don't want to really note what is happening in US politics other than to say that the state of the US is scary. I've been following what's going on in Belarus pretty heavily as well. It's hard to strike a balance between being concerned and informed about what is happening and also take a step away from it all so you can concentrate on getting work done and not spiralling.
The bright spot in all this, though, was that I did hit a really big goal for the year: I saved $20,000. 
I hit a big goal though? I hit $20,000 of savings year to date, my goal for 2020. 
I knew I was going to hit the goal. And there had been more than $20,000 in my bank accounts for over a month (but some set aside for taxes or spending etc) but it still felt like a really big deal to hit it.
I think because when I set the goal of saving $20K… I had no plan. I was working at Starbucks and had just gotten the job at the radio station for $15K a year. I had no idea where this was gonna come from. Then this year threw a lot of curveballs.
I'm both proud of myself and also recognizing the immense luck (leaving service industry before COVID19) and privilege (white skin and data skills and friends who own businesses I know are hiring and US citizen and college degree and cisgender and no kids and English speaking and middle-class background and more…)
But holy shit. Feels really big to me. I actually think I might hit $25,000 saved this year, which would make me really happy.
In slightly less related news, I have decided that it's unlikely I'll return to the ice in 2020. Most rinks are still closed in the Portland metro area, except for one that takes close to 4 hours round trip to get to by transit that is opening for some very expensive sessions. In July, I switched to running for exercise, which I don't really love as an activity but it is free, easy to do socially distanced, effective cardio and easily measurable (which is helpful for me). I'm complementing this with some strength training using my single kettlebell and resistance bands and core training at the park.
It's been going okay, but not being able to exercise for close to 2 weeks really did not make me very happy. I am up to doing ~8 mile long runs now, on track to get back to doing half-marathon length runs by Halloween. I'm following this training plan.
September 2020 Post-Tax Income: $2,985.10
Day Job: $2,945.00
Achievement App: $40.00 (this is a health survey tool that pays me to be auto-connected to my various tracking apps – it's automatic, worth checking out if you use things like Fitbit, Myfitnesspal, Apple Health)
Bank account interest: $.10
Oh My Dollar (full income/expenses report below): $0 (didn't bother to pay myself, will pay myself in October)
Full September 2020 Spending Report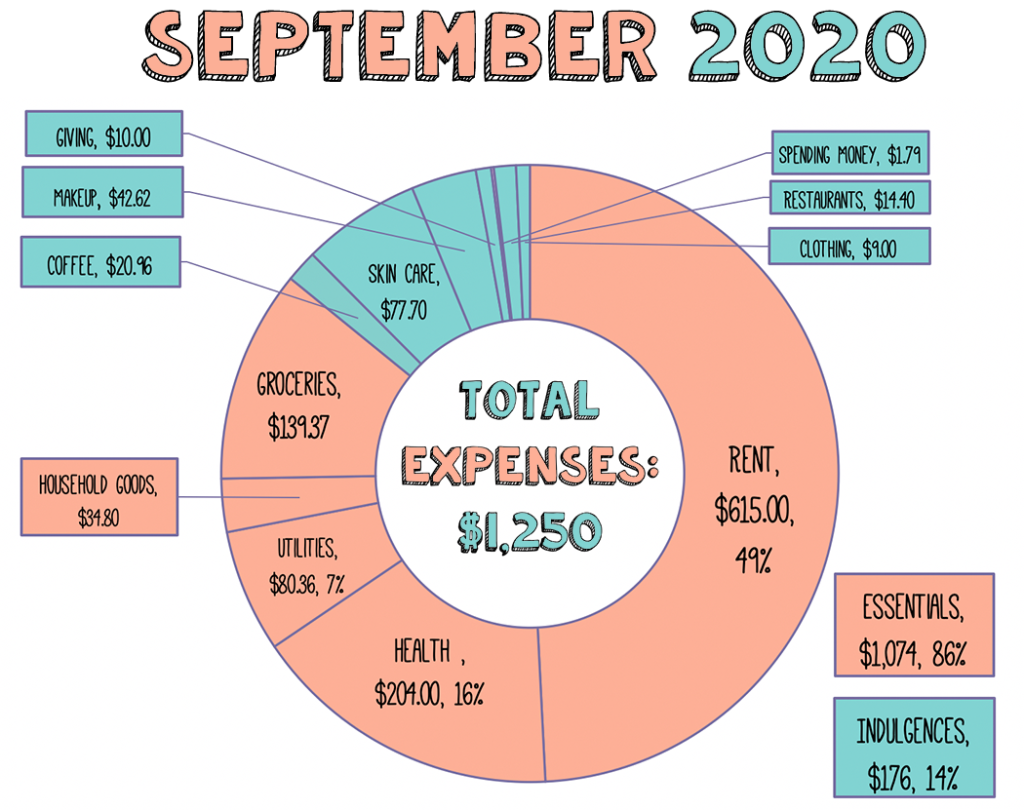 Total Spent: $1,250.00
On track! 64% of total annual budget at 75% of the way through the year.

Household & Insurance – $729.91
Rent: $615
Water, Commons, Garbage, Sewer: $32.50
Trash: $7.50
Electricity: $40.11 (high due to AC + air purifier due to fires)
Household Items (detergent, TP, toothpaste, razors, etc): $34.80 (TP for 6 months, toothpaste, and deodorant)
Internet at Home: $0 This is now paid for by SSO's employer due to being remote employee, was $20 per month.
Charitable – $10.00 (2%)
I am donating through OMD (below). I have a lot more set aside for October, I just literally did not get around to doing donations on my own this month.
Organizations I am supporting: The Numberz,  XRAY.FM  and Mutual Aid for Immigrant and Refugee Students at Reynolds HS.
Basic Food – $160.33
Basic Groceries: $128.71
Treats (non-essential snacks): $10.66
Coffee/Tea For Home: $20.96
Travel – $0 (lol)
Health Insurance Premium: $204.00
Figure Skating $0
The rink is closed again as case numbers rise in Oregon.
Year to date, my marginal cost of skating is $10.21 per hour.
Looking Good – $120.34
Skin Care: $77.70
Skincare is between health care an indulgence expense for me – I stock up about twice a year, it works out to around $11 per month for me.
Makeup: $42.64 
Clothing: $9.00 (used warm up fitness Jacket from Poshmark)
Extra Food + Drink – $14.40
Restuarants: $14.40 The first day with good air after 10 days of poison air, we went to an open air sidewalk restaurant for ramen on a whim.
Flotsam: $1.79
Savings $1,685.63
This is a combination of cash + traditional IRA savings.
I do not qualify for my employer-sponsored Simple IRA until Jan 2021, so for now I am saving in a traditional IRA – particularly because I expect to have a high tax burden this year (due to my highest ever income and having to repay ). I expect to max out my Traditional IRA for the year ($6,000 maximum).
I have also begun saving cash towards the possible goal of paying for a master's degree in cash in 2021-2022. There is nothing certain about that plan, but the worst case scenario is that I save cash and I have more cash saved and can always invest it instead if the masters doesn't happen. Not really terrible, all things considered.
Retirement savings: $400
Cash savings: $1,285.63
Savings rate
: 56.4% of Post-Tax Income
YTD Total Savings: $20,255.47/$20,000
(101% Total of goal at 75% of the way through the year)
---
My purrsonal finance society members have been keeping the business afloat for now, with book sales, speaking income, and podcast advertising all down.
I am doing a product launch (originally planned for this month but held up by the smoke/fire/apocolypse) in October for a new product line, so there are more capital and inventory investments coming or happening.
I set money aside to pay myself this month, but I just haven't written the check yet. 😂 I'll deal with it later.
This is cash-based accounting, not accrual, so this only accounts for income received this month, not invoices billed.
Gross Receipts + Sales: $1,134.76
Amazon Book + Kindle Sales (net after fees): $23.91
Shopify/Direct to Consumer Book Sales: $326.44
Radio Ads: $34.20
Wholesale (Buyolympia): $44.34
Dividend: $.03
Patreon Memberships: $705.33
Total Expenses: $887.74
Charity: $100.00
Operating Expenses: $365.38
Convertkit: $49
Annual Business License: $100
Exist.io $6.00
Meals: $21.30
Mailgun: $8.20
Backblaze : $6.00
Storage: $4.98
Office Supplies: $44.48
Sonix: $15.00
Hosting + Servers:

 $30 (Linode and Dreamhost)

Media Subscriptions: $44.48
Adobe Creative Cloud: $29.99
Habitica: $4.99
Cost of Goods Sold: $84.70
Shopify Monthly Fee: $29.00
Shipping: $55.70
Net Income:
$584.68
Tax Savings: $146 (25% of net income)
Lily's Salary: $330.79