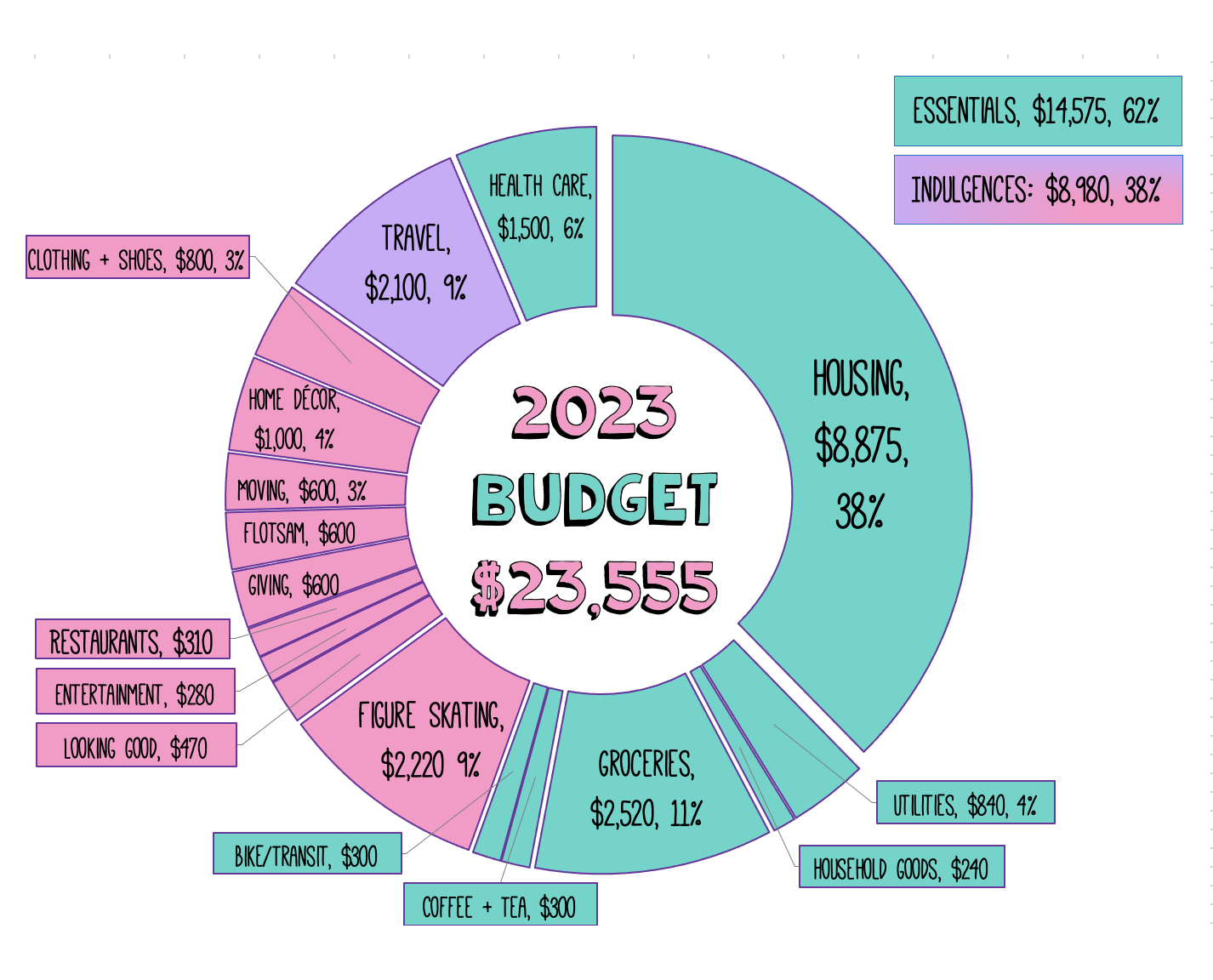 Who knows what 2022 is going to hold? Each year I publish an estimated budget and then reflect on how I did at the end of the year. Here is last year's budget.
Projected 2023 Spending: $23,555
Household & Insurance – $9,465 ($789 per month)
Rent/Housing: $8,875 ($740 per month) Our lease is up in May 2023, and we'll go month-to-month and move into the triplex sometime later in the year. Budgeted for an increase in my portion of housing costs after June.
Water, Commons, Sewer: $330 ($27.50 per month, level billing)
Trash: $90 ($7.50 per month, level billing)
Electricity: $420 ($35 per month average) This includes higher average bill in summer due to portable AC unit when the air is bad quality.
Household Items (detergent, TP, toothpaste, razors, etc): $240 ($20 per month average)
Internet at Home: $0 This is now paid for by SSO's employer due to being remote employee, was $20 per month.
Basic Food – $2,820 ($235 per month)
Basic Groceries: $2,280 ($190 per month average) – this is much higher than it's ever been, but I can't see it going any lower.
Treats: $240 ($20 per month average) – this is a category for cookies, chips, things I don't really need but get as a "treat." I track it separately from regular groceries to be aware. My 2021 average was $17.75/month, my 2022 average was $19.58/month.
Coffee/Tea For Home: $240 ($20 per month) Coffee is getting priiiiicey
Farm Share: $0 We are likely not getting a farm share again this year. 
Local Transport – $300 ($25 per month)
Bike Repairs & Parts: $155 A tune up on my bike.
Local Transit Trips: $145 – No more free transit through work.
Fitness – $100 ($8 per month)

I'll probably spend some money on things like stretching bands or new running shoes.
Health Care – $1,500 ($125 per month)
My health care costs were a disaster this year because of the implementation of a Copay Accumulator Adjustor Program. Until this program was implemented, most of my medical copays were covered by the co-pay assistance program for my drug (which currently has retail costs of $10,300 per month). Within a month or two, I would hit my out-of-pocket maximum using the manufacturer assistance. This year, in order to not get screwed, I switched to a no-deductible EPO.
Copays: $660 This will cover my other drugs not covered by co-pay assistance and provider copays.
Contacts: $260 Cost of a one-year supply after vision insurance.
Figure Skating – $1,895 ($185 per month)
In 2019, I took up figure skating again after a 15-year break from the sport. I love it and am better at it than I am at most things. It's exercise, community, meditation, creativity, sparkly costumes, and skill, all rolled up into one big expensive package.
Ice Time: $905 this is honestly quite low
Coaching: $660 (Private lessons)
Fees: $100 (annual USFSA membership)
Skate Sharpening: $40
Costumes, Laces, Bunga Pads, + Tights: $150
Looking Good – $470 ($39.17 per month)
Hair: $380  4 professional haircuts, 2 bang trims, and restocking supplies.
Makeup: $130 A professional necessity.
Clothing/Shoes – $800 ($66.67 per month)
Clothing: $800  I'm hoping to focus more this year on only filling in and replacing clothing, as we're moving.
Food & Drink Out – $310 ($26 per month)
Restaurants + Bars/Takeout: $240 this is pretty low, but yet still higher than my historical numbers (about $7 per month).
Tea/Coffee Out: $120  ($10 per month average) consistent with 2017/18 levels, way above 2019 and 2020 averages.
Giving/Gifts – $600 ($50 per month)
Charitable Donations: $500 I do most of my giving through Oh My Dollar!
Gifts: $100 – A pretty consistent annual amount, give or take a wedding/baby.
Flotsam $600
Spending Money: $120 

$10 per month – This is for 

candy, library fines, random things not captured elsewhere.
Citzenship Costs: $240 I applied in 2021 for  Croatian citizenship via heritage (my grandfather emigrated from Yugoslavia). I will hopefully find out in summer 2023
Home Decor $1,000
??? No idea how much this will be, we are moving.
Moving Expenses: $600

We don't know when we're moving out of this apartment, but the end of our lease is this summer, and we hope to have the triplex ready to move into
Entertainment:  $280
I want to prioritize going to more live performances this year.
Travel:  $2,108
I'm going to Japan in March 2023, but I won't have much lodging costs as we have a combination of work trip. I already purchased the flights using points.
Japan
Food and Coffee: $480 is an average of $40/day which is a bit higher than the past. Inflation hasn't affected Japan as much as most of the world due to their deflationary currency. I'll likely be able to keep the expense lower than this because theres's some costs. In 2019, I spent $516 in Japan, an average of $32.25 per day.
Local Transit: $300 Includes shin
Tours/Events/Museums: $100
Incidentals: $280 – Random
Shopping: $700 – this is how much I spent in 2019. I did go a bit mad then, but you know – stationary, things shaped like cats, sunscreen, lolita clothes 😂
Other Travel 
Probably a few other trips $700 – this is how much I spent in 2019. I did go a bit mad then, but you know
---
Savings Goal: 23% of my income
This is almost all retirement savings (SEP IRA). If I can stretch my income this year, then I will be able to save more.
My stretch, streeeetch goal is to save $20,230 as part of the 23 in 2023 Challenges we're holding over at the OMD forums. 
---
Monthly Business Overhead Costs: $171.98
Not in personal budget!
I have a number of regular costs that are not reflected in my personal budget. Most of these would not exist if I did not run a business and are used 90%+ for business purposes.
This does not include costs like equipment, paying contractors (editors, transcriptionists, assistants), Cost of Goods Sold (COGS), or the hundreds a month I spend on shipping. All of that appears on my monthly reports.
Below is my monthly overhead, including my cell phone, paid for by my business.
Mobile Phone Plan through Mint: $25 per month 

Adobe CC Membership: $40 per month
Shopify: $29 per month
Convertkit:  $49 per month 
Web Hosting: $50 per month 
Google Storage: $1.99 per month 
Backups: $5 per month 
Apple Storage: $9.99 per month