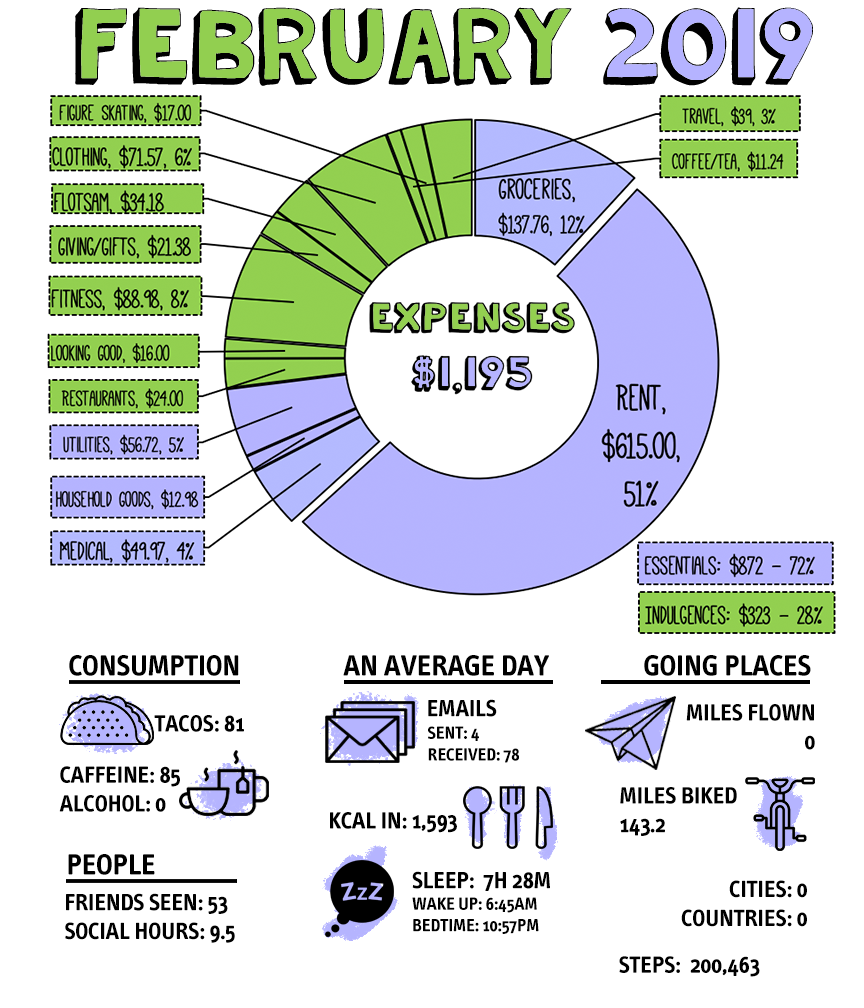 Good things that happened
8 youtube videos down, 44 to go.
I'm committed to a video every single Monday this year, and it's still going! I have now made more videos this year than I did in the previous 11 years. I've talked about depression, motivation, filmed a day in the life, and more. I have big plans as the year goes on so  go watch and subscribe please, I'm desperate!
Here's a video I made last week about how to get things done when you're mildly depressed:
I finally created an Oh My Dollar! online community, forum.ohmydollar.com. I have wanted an online space to discuss finances for awhile that had a different vibe than the personalfinance subreddit or the Mr Money Mustache forums. The comments on The Billfold have been a great community, but The Billfold shut down this month, sadly. I definitely didn't want to create a facebook group, since facebook is my least favorite online platform to hang out on, and slacks or group chats don't have the search-ability/discoverability that makes it easier to jump in and respond when you're in different timezones or want to figure out the answer to a tax question.
So, forums it is! The community is really getting going now 3 weeks into being alive, with 147 registered users from the US, Canada, Wales, Ireland, England, Hong Kong, Germany, and Australia.  People have started journals to track their financial progress, created threads to compare knitting projects, talked about the process to "buy" a baby, and discussed tracking money and anxiety. Also there's merit badges! I'm a fan of what we're building together. So come join if you'd like to have a conversation about money with myself and others.
Teaching personal finance!
This month was full of teaching workshops! I had 22 hours of in-classroom time teaching young adults about personal finance, including at Wayfinding Academy, Reed College, and to a cohort of AmeriCorps members (I have a soft spot in my heart as an AmeriCorps alum myself). This is absolutely my favorite part of my job, and I want to do it *all* the time. I get better and better at it every time I do it. I hope in the coming months, there will be more!
Putting my toe(pick) back in figure skating
This is a thing that feels big *to me* but is probably not to other people: I have a semi-annual existential crisis about returning to figure skating as a hobby. I was a competitive figure skater growing up.  While I was never on track to compete at the Olympics, it was something I put a lot of time and energy into, and was pretty good at compared to the average bear. It's an expensive sport to do, even casually, so I haven't thought about going back to it seriously in awhile. But this month I decided to go back to training, at least casually, and get my doubles consistent again.
Things to improve on
Self-Care *is* Productivity
This was not a banner month for self-care, healthy sleeping patterns, going to the gym, or really anything that isn't staying up on tumblr until 2am eating ghost pepper chips for dinner and then ending up sleep-deprived hosting live radio or hurriedly trying to catch up on weeks-old emails. I was tired all month, I was depressed, and I wasn't making the work I hoped to make.
I need to reinforce that prioritizing a regular schedule, meal planning, working out, and general self-care helps support me not procrastinating, doing better work, and generally feeling better. I put in 183h, 42 min of on-task productive time this month, but so much of that was editing videos past midnight or waking up to finish slides at 4:30AM because I couldn't be effed to do it the night before.
So: take care of yourself so that you can do the work! Also, please respond to emails.
Social Time
If you can't tell by the fact I had only 9.5 hours of social time this month, I've been doing awfully at this. I was sick for part of the month, which contributed, and generally in a low mood. This likely won't improve much in March as I'm traveling solo for part of the month, but I'd like to un-ghost my friends this spring.
---

Full February 2019 Spending Report

Total Spent: $1,195
14% of total annual budget at 16% of the way through the year.

Household & Insurance – $684.70
Rent: $615
Water, Commons, Garbage, Sewer: $27.50
Electricity: $29.22
Household Items (detergent, TP, toothpaste, razors, etc): $12.98 (cleaning supplies)
Internet at Home: $0 This is now paid for by SSO's employer due to being remote employee, was $20 per month.
Basic Food – $146.25
Basic Groceries: $120.91
Treats (non-essential snacks): $16.75
Coffee/Tea For Home: $8.49
Health Insurance Premium: $29.00
Over-the-Counter Drugs/Supplements: $20.48
Fitness – $88.98
Gym Membership: $38.99
Annual Fee at Gym: $49.99
Looking Good – $16.00
Travel – $39.01
Taxes/Fees on Awards Hotels for Japan: $39.01
Food & Drink Out – $26.50
Restaurants: $18 mom's bday dinner
Bars: $6 mocktail + tip at mom's bday dinner
Coffee Out: $2.75 
Giving/Gifts – $21.38
Charitable Donations: $10
In-Kind Charitable:  $11.38
Clothing AKA I have a problem –   $71.05
 Poshmark purchases: $71.05 (1 dress, two sweaters, help me)
Figure Skating – $17.00
Ice Time: $17
I will be tracking figure skating separately from fitness going forward because there's a bunch of skating-specific costs, including transit to the rink and skate sharpening, and I'd like to see how they break down.
Flotsam –  $33.18
Pocket Money: $4.19
Home Decor: $29.99 bought a fuzzy ottoman
Sinking Funds – not yet spent
Renter's Insurance: $11.50 ($140 per year)
---
Allocated for Next Month's Travel to Japan – $1323.13
Food: $500
Coffee + Tea + Bars: $100
Train/Metro Tickets: $243.13
Hotel Taxes + Fees (all hotels on points): $100
Incidentals (Museum Fees; Onsen Entry; Laundry; SIM Card): $180
Gifts, Clothing Shopping, Trinkets: $200
Retirement savings: $100
---
OMD Business Income + Expenses Report
I don't focus on personal income or savings any more because this year I'm focusing not on building my personal savings, but rather getting the business to a supporting-me-full-time sort of status, and I think it's important to show where I am 26 months into this business since my income might be missing from my expense reports some months since I may not take an income from the business (as was the case this month.)
This is cash-based accounting, not accrual, so this only accounts for income received this month, not invoices billed. Some of the income may be work done in previous quarters, depending on how fast people pay me.  That means that a number of the expenses incurred may be covered by reimbursements or sales received in another month.

Income & Sales:

+$3,031.39
Book + Kindle Sales (net after fees): $219.72
Online Course (net after fees): $81.81
Freelancing: $208.00
Speaking Income: $2,050
Expenses: 

-$453.88
Conference Fee for April: $199.00
Travel: $18.69 (posted from Jan Travel)
Marketing/Charitable: $9.00
Hosting + Software (including transcription): $75.69
Payroll & Contractors: $100.00
Phone: $40.00
Shipping (COGS): $9.00
Client Meals: $2.50
I pay quarterly estimated taxes on my business income, so I save 30% of my net (after expenses) income in a separate account.
Tax Savings: $773
(30% of $3031 Earned Income – $453 Expenses)