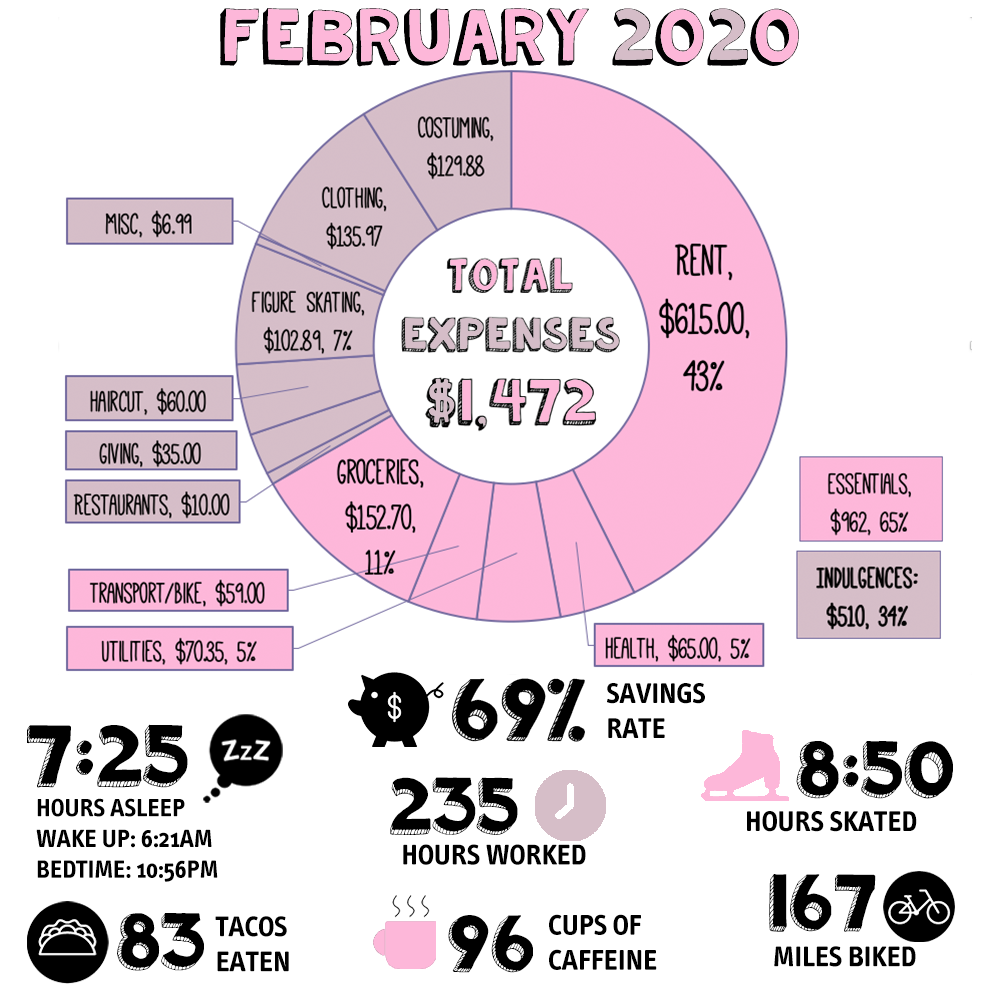 This month I'm still in my "I'm working a ton and everything else is falling apart" mode – I'm still working a full-time job, my 15-hour-week job doing Finance & Grants for Xray.Fm and, of course, working on Oh My Dollar!
I'm barely holding it together for all the jobs – number of hours aside, it's just a lot of different priorities to juggle and keep in my head. I just keep forgetting things – forgetting I hadn't mailed out stickers for Snackuary, for example – to even just forgetting to do things around the house. I've been making mistakes at my full-time day job that are out of character for me because I'm not managing the stress well.
I did try out meal prepping this month (video forthcoming) and that was pretty rad. I think I'm sold now.
I decided to not going to skating sectionals in March, as with my work schedule, I'm simply not finding enough free time to go to the rink – there's such limited freestyle sessions available at the rink in town, and it takes me  3 hours round-trip to go skate for a just an hour out in the suburbs, and I just can't afford that time right now if I also want to prioritize other things.
Did I mention I'm working more than 60 hours a week right now? Grand total of work hours for February was 235 hours.
I am saving a heck of a lot of money. But I also spent a lot of money. It's amazing what a "big shovel" of income can get you.
Still doing the livestreams, and hope to have my first video of the year about meal planning out soon.
I talk about my ABSURD tax refund in this livestream.
---
February 2020 Post-Tax Income: $4,696.16
Refund from Bank: $75.00
Data Job: $3,204.31
Radio Job: $872.31
Tax Refunds: $603
Oh My Dollar (full income/expenses report below): $0 – took no income this month
Checking Interest: $.01
Reconciliation Adjustment -$58.47 (old accounting issue fixed)

Full February 2020 Spending Report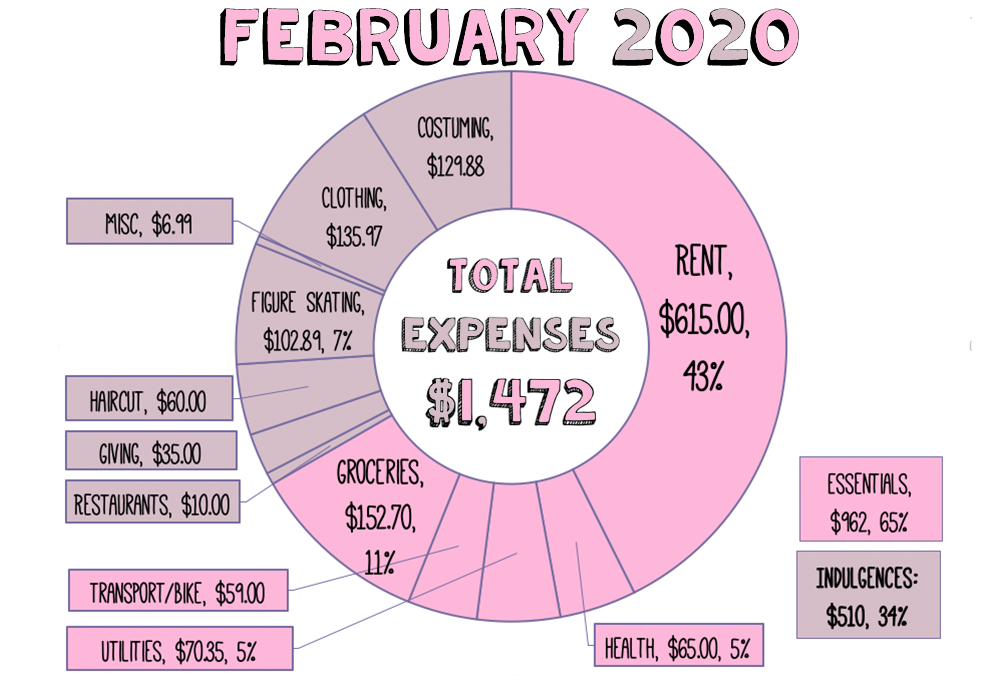 Total Spent: $1,471.78
11.7% of total annual budget at 16.4% of the way through the year.

Household & Insurance – $744.35
Rent: $615
Water, Commons, Garbage, Sewer: $27.50
Trash: $7.50
Electricity: $30.35
Household Items (detergent, TP, toothpaste, razors, etc): $16.16
Internet at Home: $0 This is now paid for by SSO's employer due to being remote employee, was $20 per month.
Transport – $59
Basic Food – $152.70
Basic Groceries: $135.77
Treats (non-essential snacks): $16.93
Coffee/Tea For Home: $0 (through work)
Travel – $0
Health Insurance Premium: $17.00
Massage to fix whatever the heck my shoulder was doing: $48
Figure Skating $102.89
Figure skating is super expensive- ice time is one of the most expensive things you can buy. Currently, I'm mostly skating on low-traffic public session at a mall instead of the advanced freestyle sessions and take as little private coaching as I can (private lessons are essential at my skill level). I pay for 7 weeks of public skate time at once and try to get my marginal cost per hour as low as possible. For 2019, my marginal cost per hour of skating was $7.06/hour. Year-to-date in 2020, it is $4.27 per hour.
Freestyle: $48  – I am now having to go to freestyle sessions almost exclusively due to my work schedule and the crowded public ice.
Coaching: $20 – one 20 minute lesson
Training Clothing: $34.89 (warm up jacket, used off ebay)
Looking Good – $224.97
Hair Stuff: $29.00 (fancy spray stuff that maybe makes me look like a unicorn
Haircut: $60
Clothing: $135.97 (11 pieces, all used except 1 bra, mostly from Thredup)
Food & Drink Out – $10
Restaurants: $10 at a restaurant on a work outing.
Giving/Gifts – $41.00
Charitable Donations: $41
Flotsam –  $.99
Spending Money: $.99 an app
Costuming: $129.88
50% Deposit on Costume: $129.88
Retirement savings: $234
Cash  savings: $3,170.02
YTD Total Savings: $5,218/$20,000 goal
---
I am not living off OMD income this year, so I'm investing more into contractors and other people to work on the show while I work two other jobs. I also have turned down a lot of work this year so I can focus on my other jobs.
This is cash-based accounting, not accrual, so this only accounts for income received this month, not invoices billed.
Gross Receipts + Sales: $878.00
Amazon Book + Kindle Sales (net after fees): $63.86
Shopify/Direct to Consumer Book Sales: $114.80
Radio Ads: $26.47
Wholesale (Buyolympia): $125.10
Interest: $.02
Patreon Memberships: $582.98
[Reconciling Adjustment]: -$8.56
Total Expenses: $529.15
Contractors: $118.60
Artwork $85.00
Transcription : $33.60
Operating Expenses: $243.51
Phone: $0 (prepaid)
Office Supplies: $68.77
Research: $9.86
Convertkit: $49
Exist.io $6.00
Meals: $9.13
Backblaze : $6.00
Storage: $8.97
Hosting + Servers: $20.00 (Linode and Dreamhost)
Sonix: $18.90 (will be phased out as I do the work to copy old transcripts out of their player)
Adobe Creative Cloud: $29.99
Marketing: $20.79
Cost of Goods Sold: $118.16
Shopify Monthly Fee: $29.00
Shipping Supplies: $11.99
Shipping: $77.17
Equipment: $13.99
Computer Peripherals: $13.99
Net Income: $348.85
Tax Savings: $87 (25% of net income)
Lily's Salary: $0