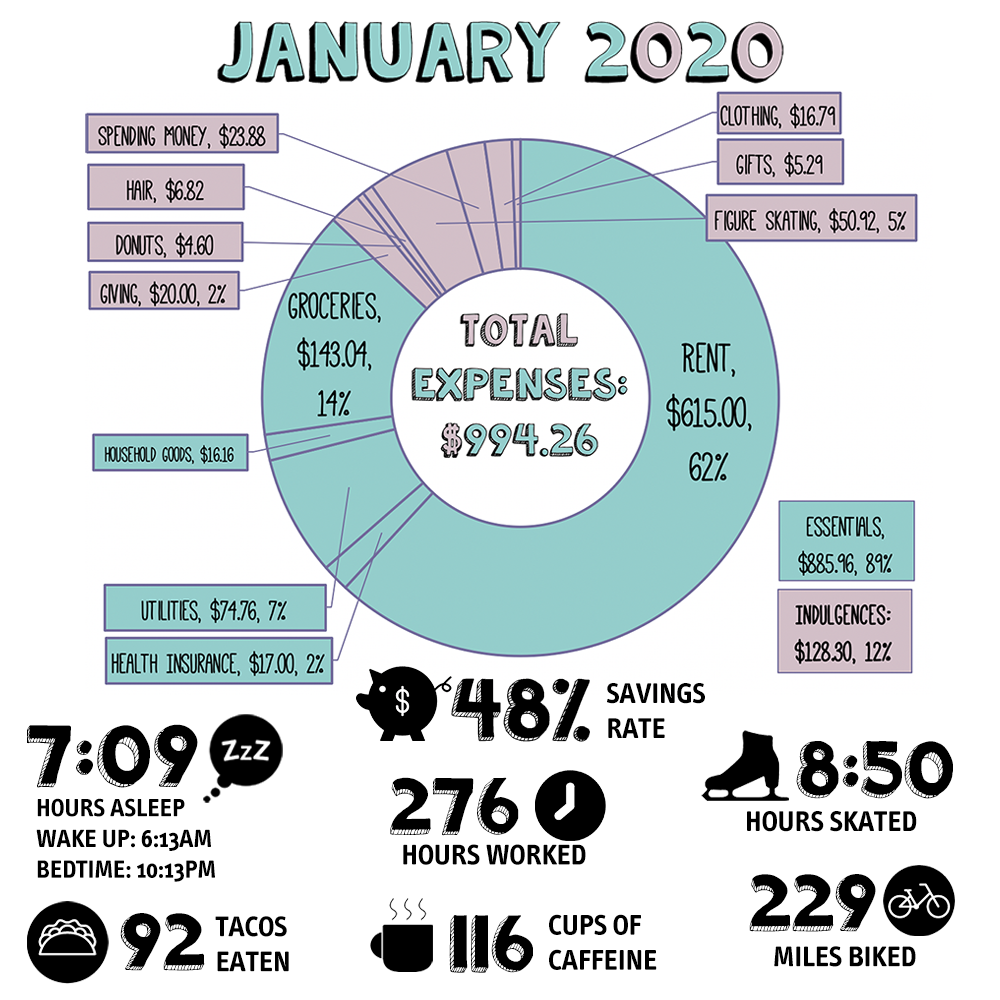 This month I mostly worked a lot – all together at 4 different jobs, now I'm down to just three (I left my barista job) – the full-time job doing data for transit, the 15-hour-week job doing Finance & Grants for Xray.Fm and, of course, working on Oh My Dollar! every single week getting out an episode.
I'm pretty mentally exhausted from all this work, and I have no idea how medical students manage to pull off 70+ hours a week of work for three years!! In this season, though, I'm simply prioritizing working, doing well at my jobs, sleeping enough, and everything else (social life, skating progress, creative projects) will simply have to wait until later.
A few cool things happened this month:
We wrapped up a matching campaign for new patrons the Purrsonal Finance Society, which meant we got to over 100 patrons, meaning I now have to make a finance video each month. I am both very excited and nervous. Please subscribe to motivate me. 
We also started doing livestreams for the OMD patrons. Here's the first one ever, and also of 2020.
A vegan donut shop opened up under my house (it remains to be seen if this is a good thing for me)
We had our first Breakfast on the Bridges on the brand new bike path leading from the Tilikum Bridge to downtown. It's very nice!
On the Oh My Dollar! forums, we had Snackuary, a lower your food budget challenge. 
I filed my taxes on JANUARY 31st!!! I found out what I spent this year and also managed to GET A REFUND. Despite the fact that I didn't have withheld taxes except for one month of the year last year. Through tax magic, I managed to get my Adjusted Gross Income to below $7,000.
Things that didn't really happen in January were getting my 2019 annual report out (it's seriously 80% done, I spent over 10 hours on it, I am just VERY BUSY and haven't prioritized the last few pages.) And also getting any of the many videos I have filmed up. I have SO MUCH FOOTAGE. And no time to edit.
Did I mention I'm working more than 60 hours a week right now? Grand total of work hours for January 2020 was 276 hours.
---
January 2020 Post-Tax Income: $3,725.67
Barista Job: $678.78
Data Job: $2,258.04
Radio Job: $871.65
Oh My Dollar (full income/expenses report below): $15.00
Checking Interest: $.02
Reconciliation Adjustment (Old Gift Card zeroed out for new year): -$97.82

Full January 2020 Spending Report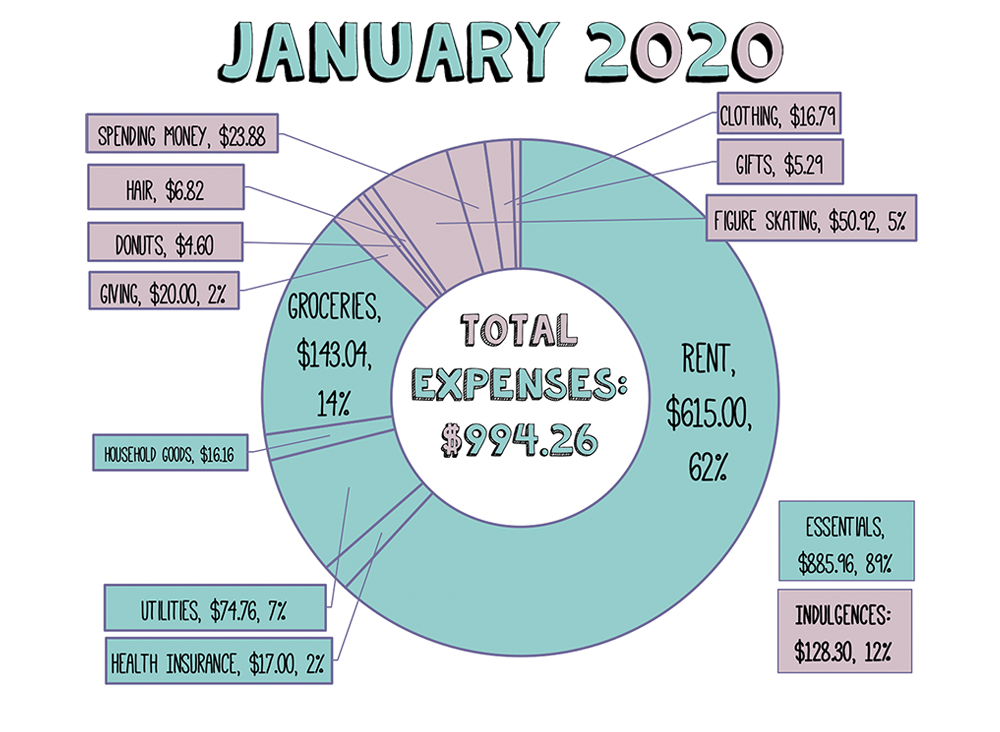 Total Spent: $994.26
4.7% of total annual budget at 8.4% of the way through the year.

Household & Insurance – $705.92
Rent: $615
Water, Commons, Garbage, Sewer: $32.50
Trash: $7.50
Electricity: $34.76
Household Items (detergent, TP, toothpaste, razors, etc): $16.16
Internet at Home: $0 This is now paid for by SSO's employer due to being remote employee, was $20 per month.
Basic Food – $143.04
Basic Groceries: $126.94
Treats (non-essential snacks): $16.10
Coffee/Tea For Home: $0 (through work)
Travel – $0
Health Insurance Premium: $17.00
Figure Skating $50.92
Figure skating is super expensive- ice time is one of the most expensive things you can buy. Currently, I'm mostly skating on low-traffic public session at a mall instead of the advanced freestyle sessions and take as little private coaching as I can (private lessons are essential at my skill level). I pay for 7 weeks of public skate time at once and try to get my marginal cost per hour as low as possible. For 2019, my marginal cost per hour of skating was $7.06/hour. Year-to-date in 2020, it is $5.65 per hour.
Freestyle: $49 – I am now having to go to freestyle sessions almost exclusively due to my work schedule and the crowded public ice.
Coaching: $1.92 – Treat for my coach, lol. Gotta categorize it somewhere.
Looking Good – $43.59
Hair Stuff: $6.82 
Clothing: $16.79 (used jacket)
Food & Drink Out – $4.60
Restaurants: $4.60 donuts from the new donut shop in my block!
Giving/Gifts – $25.29
Charitable Donations: $20
Gifts: $5.29
Flotsam –  $23.88
Spending Money: $23.88 new waterbottle and some random snacks
Retirement savings: $200
Cash savings: $1,617.19
YTD Total: $1,817.19/$20,000 goal
---
I am not living off OMD income this year, so I'm investing more into contractors and other people to work on the show while I work two other jobs. I also have turned down a lot of work this year so I can focus on my other jobs.
This is cash-based accounting, not accrual, so this only accounts for income received this month, not invoices billed.
Gross Receipts + Sales: $1,518.52
Amazon Book + Kindle Sales (net after fees): $173.31
Shopify/Direct to Consumer Book Sales: $401.44
Radio Ads: $17.17
Wholesale (Buyolympia): $389.60
Interest: $.15
Patreon Memberships: $536.85
Total Expenses: $951.87
Contractors: $267.90
Engineering: $200
Transcription: $67.90
Operating Expenses: $201.07
Phone: $40.00 (last month at this rate, switched to Mint)
Convertkit: $49.00
Exist.io $6.00
Backblaze: $6.00
Hosting + Servers: $20.00 (Linode and Dreamhost)
Sonix: $18.90 (will be phased out as I do the work to copy old transcripts out of their player)
Adobe Creative Cloud: $29.99
Marketing: $24.90
Cost of Goods Sold: $279.42
Samples for new product: $14.49
Shopify Monthly Fee: $29.00
Shipping Supplies: $3.00
Stickers: $58.50
Calendars: $11.78
Shipping: $162.65
Equipment: $203.48
Headphones: $63.49
Computer Peripherals: $139.99
Net Income: $566.65
Tax Savings: $141.00 (25% of net income)