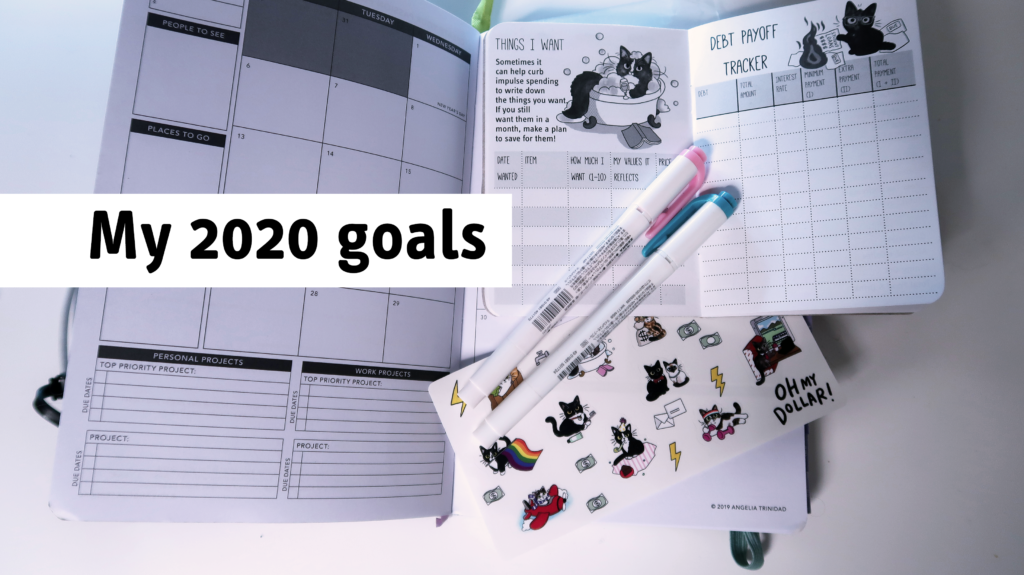 Each year I create a list of goals and resolutions, and I publish them here to keep me accountable. I've learned it doesn't actually matter if other people read the posts, just *me knowing* that I've publicly stated my goals and will review them at the end of the year helps keep me accountable. You can read last year's goals here and find out how I did here.
In 2019, I pursued a 12 goals  – and overall, I did okay  –   but a big part of that goal wasn't taking a day job and living off my business and savings and traveling instead. It was a great life experiment, but by the end of the year I was ready to have consistent income, a routine, and a team of people to work with.
I ended up deciding to take a full-time role doing transit-related data work (very close to what I went to school for, with great people), while also continuing to run Oh My Dollar!, and also began a 15-hour-a-week position at my home radio station, XRAY.FM. Obviously, working 3 jobs isn't sustainable forever- I know that. But I want to do all of them quite a lot, and the timing works out that in 2020 I can work a lot. So this is my year of working my butt off! Limited traveling (for me), a lot of saving money, and working all the time.
Do I expect to still be working 65 hours a week at the end of the year? Probably not. Something will likely have to give. But I'm outsourcing a lot of the work of OMD and hoping that this year this hustle will pay off in money, career growth, and more time working with a team(s)!
Financial Goals
Content
Publish a 2019 annual report by January 31st
Publish 26 episodes of Oh My Dollar!
That is every other week – our (maybe?) new production schedule going forward. The big thing that slows down production now is that we also publish video podcasts. Luckily, I have a fabulously awesome engineer and (now) editor, Tony, and a supportive radio station.
Publish 20 youtube videos (subscribe here! It really helps!)
Frankly, this is ambitious given my packed paid work schedule. Last year I had a very ambitious goal – a weekly video. I failed. I published a video every single Monday until mid-March, when I left on a 3-week long trip, and never got back on the weekly wagon – publishing only 17 videos, as opposed to the 52 I had planned. BUT I WILL PREVAIL.  2020 will be the year I actually make videos (she says, yet again…)
(Sub goals: 500 by February 28th,  1,000 by July 7)
[Secret Event Project]
Stretch Goal: Film a Skating Music Video
Community
Work
Kick butt at my day job
Kick butt at day job #2
New aircheck & reel
Manage my schedule working 3 jobs without losing my mind or too much sleep
Life/Travel
Have a very real check-in with self about sustainability of 3 jobs by June 31
Keep meal planning
Keep sleeping an average of 7-8 hrs a night
Travel to at least two new-to-me countries
Skating/Fitness
Compete at pacific sectionals
Train ~260 hours on-ice this year
Compete at adult nationals (if I can afford the trip)
Get my splits back
Haircutter Spin
weight training and off-ice plyometrics once a week
pass adult gold freestyle test
level 4 spin
passing standard +1 on front loop and rocker-chocktaw pattern
two doubles and outside axel consistent
death drop with 5 revolutions
Not-To-Do List
Serving on a board or civic committee again (no time yet)
Binge-watching TV instead of making things
Comparing myself to other "real business owners" on instagram
Uncompensated speaking gigs (other than for direct service non-profits)
Tax prep volunteering (I love it but it's time consuming)