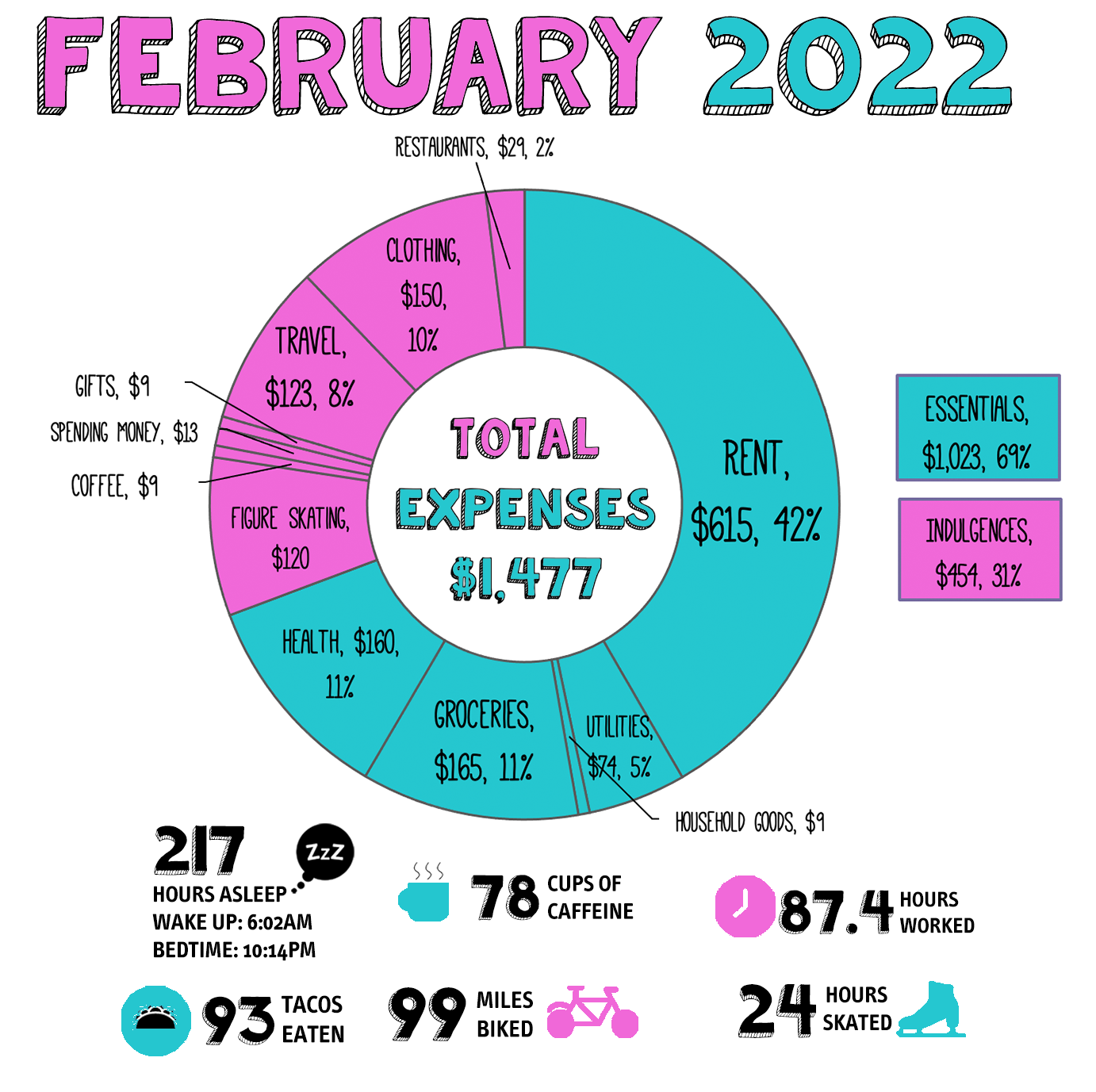 February 2022 was not a banner month. I caught a nasty bug (that wasn't covid but certainly wasn't great.) I had a massive health care administration issue that is still unresolved but meant I spent hours on the phone and will possibly have to pay over $3,000 in medication co-pays.  And ironically, this caused me to flare up.
I watched figure skating implode on itself at the Beijing Olympics when it became clear that a 15-year-old was being doped by her coaches. And I woke up at 3:30AM to watch the Women's figure skating event end in the most heartbreaking 10 minutes of live sporting TV I've ever witnessed.
And then the world watched Russia invade Ukraine and shell its major cities.
I did less work, less studying, and far too much doom-scrolling and doom watching. I even had to push back the exam I was set to take this week.
I did pick up my own skating schedule a bit, though – I skated 23 hours, 45 minutes in February and went to the rink 12 times. 
I also *Finally* managed to finally publish an edited video on my channel about Llamalife.co
We also celebrated our 100th Talking Dough and Eating Donuts livestream and I ate THREE donuts.
Anyway, February was a dark month. Can't wait for better months ahead?
February 2022 Income: 
$1,980.38
Right now I'm focused on studying for the Series 65 exam and not working full-time until I start my new job in April. I did a lot of speaking for Oh My Dollar! that will be paid in the coming months, but for now my income is greatly reduced. Luckily I have savings.
Day Job: $0
Bank account interest: $.27
Oh My Dollar (net after expenses):

$1,980.38
Full February 2022 Spending Report
Total Spent: $1,476.58
On track! 12.01% of my total annual budget at 16.67% of the way through the year.
Household & Insurance – $697.84
Rent: $615
Water, Commons, Garbage, Sewer: $32.50
Trash: $7.50
Electricity: $34.21
Household Items (detergent, TP, toothpaste, razors, etc): $8.63
Internet at Home: $0 This is now paid for by SSO's employer due to being remote employee, was $20 per month.
Basic Food – $174.06
Groceries won't stop being expensive. I hate it.
Basic Groceries: $159.48
Treats (non-essential snacks): $5.58
Coffee/Tea For Home: $9.00
Extra Food & Drink – $29.23
Restaurants: $29.23 – had an anniversary dinner
Travel – $123.07
I keep booking flights like a fool. We'll see.
Taxes/Fees for Flight to Norway/Denmark: $87.07
Amtrak Train: $36.00
Health – $160.15
My health insurance premium is now covered under my SO's employer plan and comes out of their paycheck. It comes to $110 per month pre-tax, but we'll likely settle up at tax time rather than me paying my SO each month because of the complexities of our taxes and my health care costs.
Skin Care: $12.11 – 

 refilled some things

Fitness: $148.04– got a year of the stretching app I was trying out last month!
Figure Skating $119.99
Ice Time: $115 another 7 week term at the local rink
Peacock TV Subscription to Watch the Heartbreaking Olympics Disaster: $4.99
Giving/Gifts: $9.00
Looking Good – $150.00
Clothing: $150.00 Got a long-coveted sweater secondhand, full woll edwardian reproduction sweater!
Flotsam: $13.24
Savings: $100
I do not have an employer 401K any longer, so for now I am saving in a SEP-IRA. I am not currently prioritizing savings.
Retirement savings: $100
Cash savings: $0
Savings rate
: 5.05% of Gross Income
YTD Total Savings: $500/$10,000
(3% Total of goal at 16% of the way through the year)