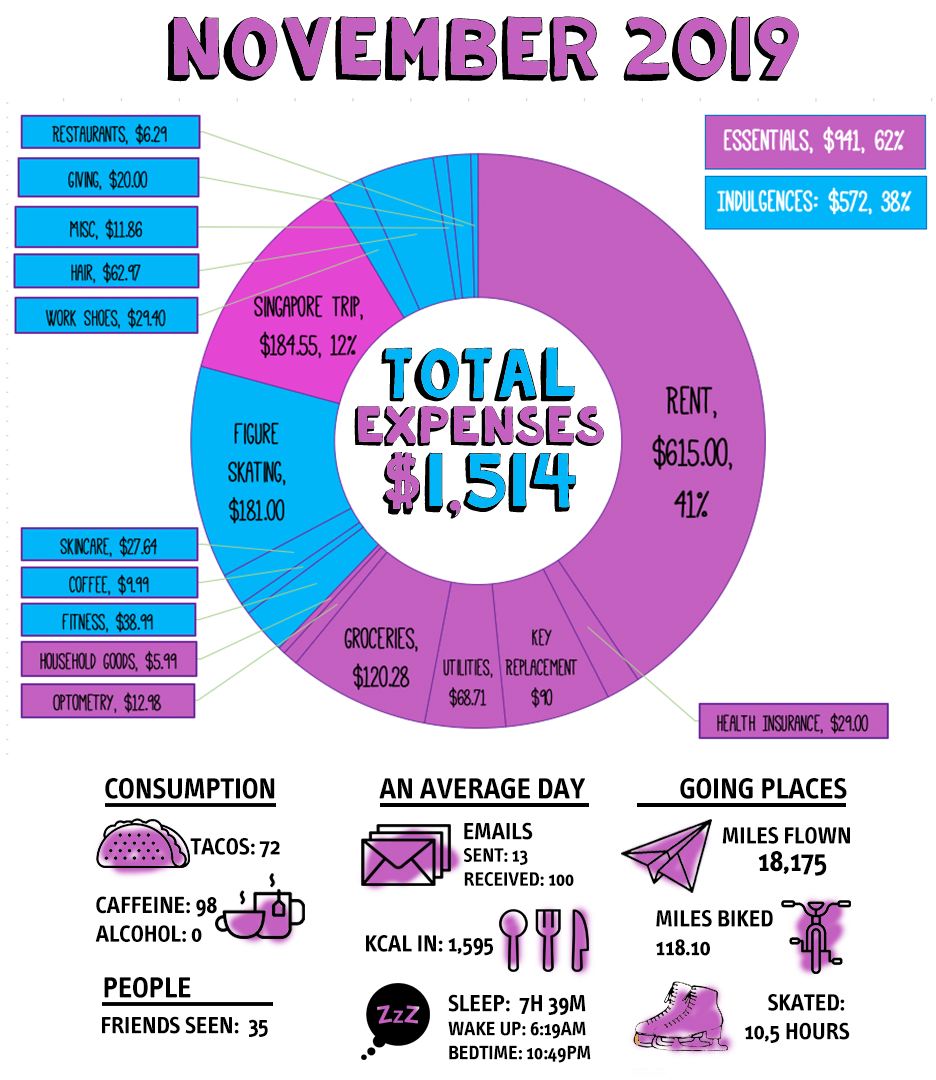 So, November. After a nice pause in October where I didn't leave the country at all, I was back on the road – this time tagging along on one of Aaron's work trips to Singapore. I didn't have to pay for flight (points) or accommodations (Aaron's work was covering his hotel) because of that, so I was able to do a week in Singapore for less than $200. I loved Singapore much more than I thought I would. Yes, it was sticky, but the food was cheap + good, the people were nice, and the transit was fantastic.
Here's a few pictures. We vlogged so hopefully the edit of that video eventually comes out.
View this post on Instagram
Last month, I hinted that for my own creative freedom and work satisfaction, I had decided I would be happier working outside of my home office more than the two days a week I'm at the station right now. So I started looking in earnest for jobs last month. I ended up taking a part-time role as a barista to pay my core living expenses and provide me with benefits (health insurance + 401K!) and I started it the Monday before Thanksgiving. So far, I like the work, and the people, and it's working out well as a side job.
The key thing now is figuring out how to scale back OMD to a sustainable pace while still putting out quality content each week – all while working another job. I'm still working out what that looks like for 2020!
OMD things that happened:
---
Full November 2019 Spending Report
Total Spent: $1,514
Right on target – 90% of total annual budget at 91% of the way through the year.
Household & Insurance – $802.71
Rent: $615
Water, Commons: $32.50
Garbage: $7.50
Electricity: $28.71
Household Goods: $5.99
Key Replacement: $90 My house key was stolen out of my jacket at the rink, and I had to pay $90 to my landlord to replace/reprogram it (FOB).
Internet at Home: $0 This is now paid for by SSO's employer due to being remote employee, was $20 per month.
Basic Food – $130.27
Groceries: $106.39
Treats (non-essential snacks): $13.89
Coffee/Tea For Home: $9.99
Extra Food + Drink – $6.29
Restaurants: $5.00 (pastry)
Coffee: $1.29 (with employee discount)
Giving – $20.00
Charitable Giving: $20.00
Health Insurance Premium: $29.00
Optometry (contact lens solution): $12.98
Fitness – $38.98
Looking Good – $90.61
Hair Cut (in Singapore): $58.98
Skincare: $27.64
Hair Accessories: $3.99
Random Indulgences  – $11.86
Spending Money: $3.58 (candy)
Gift: $5.39
Clothing: $2.89 (tights for $12.89 – $10 coupon)
Singapore Trip (approximate due to exchange rate) – $184.55
Restaurants + Coffee: $78.40
Transit: $19.58
Tourism Attractions + Museum Fees: $44.93 (river cruise, cloud forest, and artscience museum)
Gifts or Trinkets: $29.40
Bath Bomb: $9.93 (I don't have a bath at home so I enjoyed a bath bomb in the hotel bath!)
Figure Skating $181.00
Figure skating is super expensive- ice time is one of the most expensive things you can buy. Currently, I'm mostly skating on low-traffic public session at a mall instead of the advanced freestyle sessions and take as little private coaching as I can (private lessons are essential at my skill level). I pay for 7 weeks of public skate time at once and try to get my marginal cost per hour as low as possible. Year to Date, my marginal cost per hour of skating is $5.63/hour.
Ice Time: $113– seven weeks of public ice time
Coaching: $68 – one hour of private coaching
Sinking Funds – not yet spent
Renter's Insurance: $13.00
---
Retirement savings: $100